This is a guest post from our partners at Zendesk.
As everyone continues to adjust to the measures taken to prevent the spread of COVID-19, like social distancing and shutdowns, people lean on the internet more— whether they're ordering food, scheduling a meeting, or almost anything else. And as a result, customer support teams are finding themselves with more work than ever before.

Businesses are rushing to make strategies that fit the new regulations. Using insights from the Zendesk Benchmark Snapshot on support volume during the pandemic, we're looking at 3 ways the coronavirus is affecting customer service. 
Support ticket volume overall is up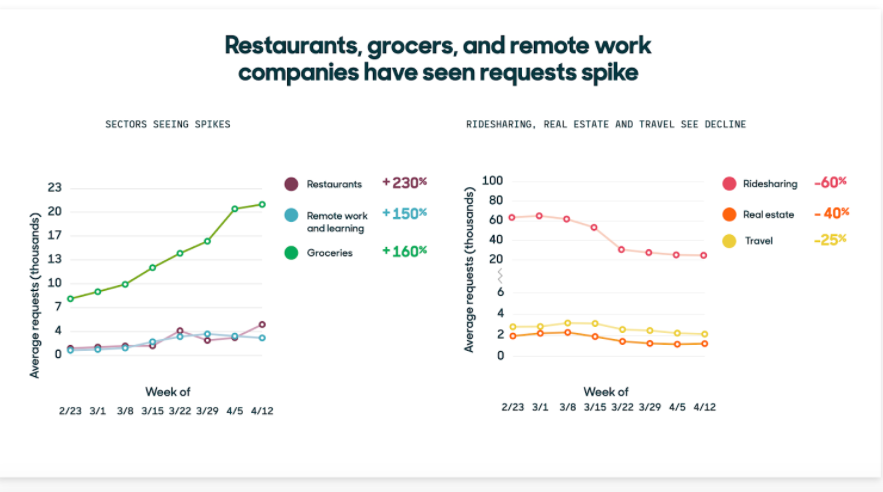 According to our Benchmark Snapshot, Zendesk customers using Support have seen a 13% increase in ticket volume since late February. Restaurants have seen a 230% spike, while groceries and remote work companies have seen 160% and 150% increases, respectively. Travel and hospitality brands saw an immediate increase in tickets and began sending emails to their customers in order to mitigate the high volume of requests—a viable strategy for any teams that are feeling underwater.
One such email from corporate OTA Egencia read: "During this time of unprecedented demand we are working tirelessly to maximize our service to you and apologize if you experience any delays to our normal service," followed by instructions for customers to use self-service channels in an effort to alleviate ticket volume. 
Of course, the situation can vary by industry. Industries like travel, hospitality, restaurants, and retail are all suffering tremendously—which can result in either many more or many fewer customer service interactions. According to our Benchmark Snapshot, ridesharing companies saw weekly customer support tickets plummet 60% through mid-April. 
At the same time, at least 30 million people in the U.S. alone are grappling with job loss. When companies restructure their support teams — or when support teams can't work from home, remaining workers may be left to deal with a higher ticket volume than they're used to. And that's on top of industry data showing an overall spike in tickets since late-February.
Support agents need tools for an evolving way of working
The ability to work from home is a privilege, but not without caveats. In the past decade, technology has made it easier to enable and support remote work. Some companies are entirely remote, while others offer flexible work from home (WFH) policies that allow employees to put their needs first. In theory, support teams should be able to work from home easily, but in reality many were still required to come into the office before the virus struck, and might not be prepared for the new reality. 
Working from home, of course, is not necessarily part of the natural order of every business. Transitioning to a remote workforce means equipping agents with the necessary tools to do their jobs, factoring in everything from security to ergonomic seating. Customer support agents need  access to flexible cloud-based support software to deal with tickets. 
Pre-COVID, only 34% of remote workers used workplace messaging software like Slack or Teams—and only 13% used collaboration software, like Atlassian or Avaya. These companies  have responded to the current climate by offering free upgrades, trials, and user caps in order to accommodate a flood of new remote workers, which means that teams should be able to adapt their strategies quickly—including support teams.
 But even with access to new tools, managers and other leaders on customer support teams may need to adopt a more flexible approach than before. Parents need to  balance their children's schooling with their own workloads, and everyone is coping with new challenges. This may mean shifting expectations around work—what can be accomplished in a day, how we schedule meetings that should be emails. 
Remote work can also leave people feeling disconnected. While some industries have virtual ways of connecting built into their company DNA, this is totally new territory for others. There are myriad ways to make people feel closer, whether that means creating daily standups, one-on-ones, or happy hours. When employees can opt-in to connection, and managers set expectations that suit this new way of working, people will feel motivated to get their work done.
Empathy has never been more important.
And speaking of revising expectations and leading with kindness, it's also important to spread awareness and empathy with the general public (and maybe even your customers). 
Agents are also managing the same job and health uncertainties as everyone else. That's why we need to help people understand that it's important to be patient when dealing with customer support. Nobody has all the answers right now, and that trickles down into business operations that we may have taken for granted. 
Emotional labor performed by support agents can negatively affect their mental health, according to the Atlantic. By the time a customer reaches for the phone, they're probably "at a point where they're pretty angry. They tried the other tools that don't require them to pick up the phone, and this time they have to, so the problem has gotten really intense. It takes a toll on agents." 
The lesson here? Empathy is more important now than ever before. When possible, urge people to use self-service channels in order to solve issues. If that doesn't work, try to help them remember the person on the other side of the conversation has been solving problems all day. After all, we're all in this together.
Note: Zendesk is constantly updating the Benchmark Snapshot to include more detailed information about how customer service is changing in the era of COVID, if you'd like a deeper dive on the data cited above.