It can be a powerful way to attract media attention, elevate a brand, and engage with customers. Content creation is also a great way to make inroads for sales—according to DemandGen, 47% of B2B buyers say they typically consume between 3 and 5 pieces of content before engaging with a salesperson. 
The downside? There's a lot of content out there. As a marketer, how do you cut through the noise and create content that gets noticed?
"People do not link to medium-quality articles that give some general advice," says to Andy Crestodina, Co-Founder of Orbit Media Studios. "People link to statistics and sound bites and things that help make their case."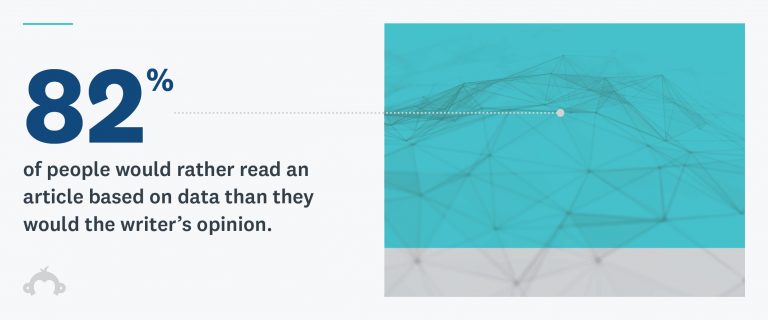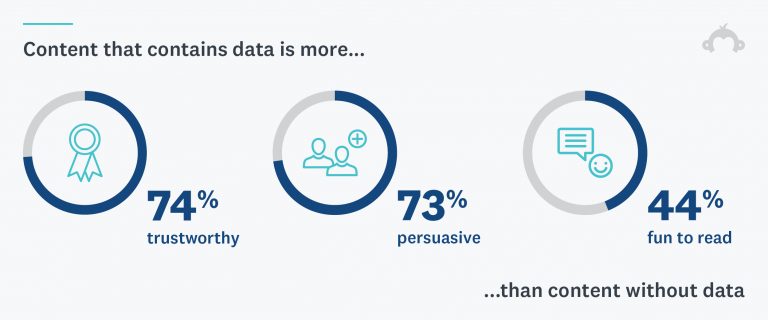 Launching content research that offers desirable data points and eye-opening insights is within reach of every marketer. Surveys are a fast, easy way to launch your own market research, and collect data that will help you create a content strategy that is unique, topical, and engaging. 
Research allows content marketers to make a point in an area that's important to their message or value proposition. Choose a topic you want to affiliate with your company, create a survey around that topic, and the data you collect will instantly give your content weight, credibility, and reach.
"How long does it take to write a blog post? Nobody knows. So I asked 1,000 bloggers that question. As of last year, it took three and a half  hours. We found a missing piece of data, published that, and won the internet for the day. Over 1,800 websites have linked to that URL over the years. That is breathtaking."

Andy Crestodina
Here are 5 steps for creating successful content using market research.
1.  Establish a goal for your content research
Start your research by identifying your goals and creating content that will help you reach them. Then use research to help your content stand out. Here are some goals to consider for your content research:
Generate media coverage
Elevate brand or company awareness
Drive traffic to your website 
Generate leads or demand
If your goal is to elevate media coverage, your research might dive into a thought leadership topic that would appeal to a broad audience. Use the data you collect to create an opinion piece that can be pitched by your comms team.
If lead generation is your goal, consider a high-value report filled with stats that can be gated on your website. Use the individual stats in ads to promote the report via paid or organic social.
Whatever your goal, creating quality content will be easier if it leads with research that is current and topical.
2. Choose a topic that supports your goal
Sometimes it's hard to find content ideas that are interesting, and to make what you write about feel new and compelling.
That's where research comes in. It allows you to expand the sphere of topics into peripheral areas that are tied to your business goals. It gives you creative ways to hook your audience with a stat or insight that draws them in.
"The starting point for us was to find the missing stat. Look in your industry for something that is frequently asserted but rarely supported with evidence."

Andy Crestodina
Start your research effort by picking a content idea that's relevant to your brand and on which your business holds some authority. Take the time to find a topic that appeals to your audience, answer unanswered questions, or connects to your brand message.
Maybe you need to launch a new B2B offering, like a web development tool. Instead of writing about scalability and ease of use, how about starting with a stat that web dev users will find relatable? 
"We started with the question: What's the lifespan of a website? The answer is 2 years and 7 months. That's data that makes my sales message, 'Redesign your website,' more compelling." 

Andy Crestodina
Busting myths or digging into unknown areas is also a great place to start. At SurveyMonkey, we know that HR teams are big users of surveys as a way to tap into the employee experience. A few months ago, the term "microaggression" was getting a lot of attention, but also carried a lot of ambiguity.  So, we launched a study to better understand how people felt about microaggressions and what they wanted HR to do about it.
We uncovered some surprising findings, such as 60% of people had witnessed a microaggression. Yet only 40% of people wanted HR to get involved. With that kind of research, you can not only ride the wave of interest in a topic, but provide valuable information to an audience that you want to be interested in your company.
"You can make a point in the area where you want to make a point. You can affiliate yourself with the kind of topic that you want to be affiliated with. And you can create something that's totally unique, worthy of writing about, and exciting. We lean on original research all the time to accomplish that."

Colette Des Georges, SurveyMonkey
3. Design your survey by including the right questions
The best surveys uncover insights that are surprising, thought-provoking, or answer a clear question. Creating questions that will deliver this result is the key to launching effective research.
The best way to create effective survey questions is to work back from the desired result of your survey. Let's say you're planning to write an article exploring a particular idea or theme, like innovation in the workplace. Your thesis might be that companies that foster innovation are more successful. The kind of insights you might hope to uncover could include:
How is innovation defined?
How much do companies value innovation?
What are the perceived results of innovation?
Do customers care about innovation?
While your thesis will be your survey's main takeaway, the rest of your survey questions will provide data that supports (or refutes) your thinking, and possibly uncovers some even more interesting insights.
The type of questions you ask can also contribute to the kind of data you collect. Here's a list of a few question types to consider:
Multiple choice questions are likely to provide a lot of information that's easy-to-answer and analyze. You'll get structured responses that can be single-answer, which can be more likely to give you crisper results, or "check all that apply," which can result in data that's not heavily weighted in one direction.
Scaled questions allow respondents to choose from a range of options, and helps to uncover feelings or sentiment around a topic. For market research, Likert scale questions offer a range of responses, such as "Much more" to "Much less", and"Extremely" to "Not at all."  These responses can be grouped to create stronger stats.
Polarizing questions are designed to deliver strong stats. By only providing a few options that people are likely to strongly agree or disagree with, you can use a polarizing question to emphasize a point you are trying to make.
Open ended questions, which allow people to write in a response, can often uncover some very interesting points of view and quotable mentions. The microaggressions survey shows how this type of narrative can supplement a numerical stat in a way that's very powerful.
"Even if it's not a crazy new breakthrough, having a statistic makes everything a little bit more interesting."

Colette Des Georges
4.  Target the Right Audience
Tapping into the right people to take your survey can be a challenge, especially if you're launching B2B research. Many marketers will curate their own list of respondents from social media channels, like LinkedIn or Twitter. However, if you send your survey to your own list, there will likely be a bias in your respondents. 
Online panels can be a huge boost to your research. An online survey panel gives you access to qualified survey respondents from around the world, and the ability to choose your exact target audience based on demographics, employment status, job title, and more.
How many people do you need to reach? Our research shows that 66% of people say 1,000 is the lowest sample size they would trust in content that cites survey research and data. However, marketing research isn't medical research; it just needs to support a message or marketing goal. Depending on how you're using your stats, even hundreds of respondents could be enough to make your point. 
What's possibly more important than sample size, is balancing your respondents to make sure your survey isn't skewed to a particular demographic. The most important demographics to balance are typically gender and age. 
Adding qualifying questions can also help you segment the audience. If you're looking for a particular segment of users that might be hard to find in a panel, you can throw in a few survey questions that help you target your exact audience.  
Asking questions like, "is your company a B2B or B2C company," or "how many years of experience do you have?" can help marketers hone in on respondents who have enough experience to answer thoughtfully.
5.  Getting the most value from your research
The unfortunate truth is that the best content doesn't always win. Sometimes the best-promoted content wins. That's why it's important to have a plan for your content research and ensure you're getting as much visibility as possible for your efforts.
One trick to improve the  visibility for your content is to SEO optimize it for key phrases. That way if a journalist, influencer, or blogger is looking for specific content, let's say about holiday home shopping trends, your research may pop up when they are looking for stats. And if your research is original, they will link to it, include it in their social shares, and even use your graphs or images.
Another strategy is to create multiple types of content around your research. From blog posts to infographics or webinars; each type of content can attract a different audience and help you reach your goals.
"Try to do at least 6 different things with your research. And think about your goals. Is it thought leadership? If so, try a guest blog post, or try to be interviewed on a podcast. For lead gen, try webinars or online assessments. For media mentions, focus on press releases." 

Michele Linn Co-Founder, Mantis Research
Launch your own research study
We've got lots of resources available for you to start your own successful content research project. You can learn more about using research for content marketing and thought leadership in our ultimate guide.
If you're ready to get started, visit our website to learn how to build a survey and reach your target audience with your research. 
Source: SurveyMonkey Audience survey of 1,054 U.S. adults aged 18-65