The Tokyo Olympics have come to a close and they were unlike any other. Delayed for a year due to the coronavirus pandemic, the Games were characterized by a somber opening ceremony, nearly empty stadiums, and Japanese protestors calling for the government to cancel the competition. 
There are mixed feelings around athletes and activism
The Olympic Games are held on an international stage and, for some competitors, offer an opportunity to not only be seen, but also heard. The American public was split on whether athletes should use the heightened profile of the Olympics to advocate for political or social justice issues: 47% approved and 49% disapproved. Among people of Color, 72% of Black Americans and 59% of Hispanics approved of athletes using their public platform in this way, versus 40% of whites. Younger people were also more likely to support athletes' advocacy, with 64% of people ages 18-34 signaling approval (compared to 43% of those ages 35-64 and 35% of those 65+).
Simone Biles inspires fans—and conversations about mental health 
Though Simone Biles's withdrawal from four individual gymnastic finals was a shock to many, her decision to focus on her mental health put a huge spotlight on the pressures athletes face.  
The majority of Americans (62%) said they support her decision to withdraw, including 51% who said they "strongly support" it. A majority (61%) also said that they believe Olympic athletes' mental health issues are not taken seriously, though more older (64%) and middle-aged Americans (62%) believed this than young Americans (56%).
The support Biles received from fans, fellow athletes, and sponsors for her decision was in keeping with the enthusiasm she generated in the weeks leading up to the Games. As shown by a word cloud of open-ended responses, Biles was by far the athlete that Americans were most looking forward to watching: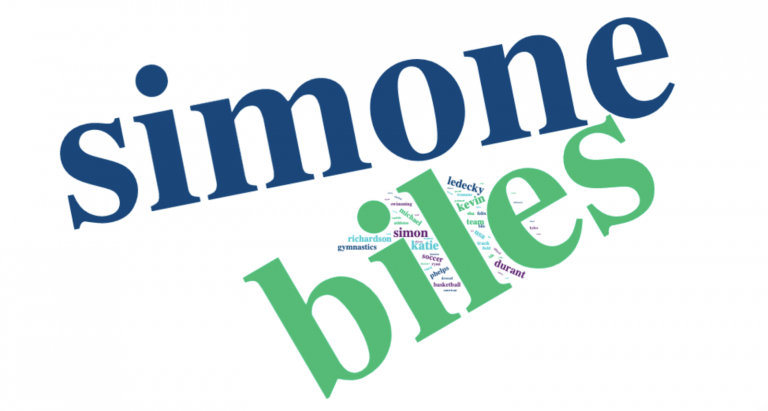 Most Americans supported the Olympics' COVID protocols
A huge majority of Americans (83%) said postponing the 2020 Olympic Games in Tokyo was the "right decision," and support of Olympic COVID protocols went even further: 
66% of Americans said they approved of the Olympics committee's decision to ban fans from attending this year's Olympic events
60% believed COVID-19 vaccinations should be required for Olympic athletes to compete, though Democrats were twice as likely as Republicans to support a vaccine requirement (84% vs. 41%)
More than 70 COVID-19 cases have been linked to the Olympics, and Tokyo became Japan's biggest COVID-19 hot spot during the Games. That risk of illness was a concern for two-thirds of Americans, who believed a COVID outbreak among athletes was likely to occur at the Olympics. Slightly fewer (59%) believed a COVID outbreak was likely to occur among the general public as a result of the Olympics. 
Sha'carri Richardson's disqualification was not so clear cut
After dominating the 100 meter dash at the U.S. Olympic trials in June, sprinter Sha'carri Richardson was given a 30-day suspension following a positive THC test and left off the U.S. Olympic roster. By a relatively narrow margin (52% to 44%), most Americans disapproved of the decision to disqualify Richardson. Republicans were the only group to approve of the decision (58% approve, 42% disapprove), while Democrats overwhelmingly disapproved (34% approve, 65% disapprove)
Newbie Olympic sports have a supportive fan base
Six sports were added to the Tokyo Olympics, including four new additions to the Games and two reintroduced sports. Of the debuting sports, a third of Americans were most excited about watching surfing and skateboarding. While 57% of Americans believed that these sports deserved to be part of the Olympic program, there were some detractors. Among Americans aged 65 and above, 33% believed that surfing and skateboarding don't belong at the Olympics, compared to 24% of people ages 35-64, and 12% ages 18-34.