My official start day at SurveyMonkey just so happened to coincide with the start of the COVID-19 pandemic in the United States. What was slated to be my first day in the office turned out to be the first day of remote work for every single SurveyMonkey employee. 
I note this because I had a unique newcomer perspective, albeit at the start of a global health crisis. What followed almost surprised me. I witnessed a company that not only genuinely cared about employee well-being but was actively using its own product to understand and engage with its employees. They emailed, they checked in, they surveyed, and they reacted. I'm grateful to be part of a company that truly values its employees. Nearly a year later, life as we know it has changed drastically but the importance of prioritizing employee well-being at SurveyMonkey has not. The value of employee feedback is at the heart of SurveyMonkey's latest Return to Work solutions designed to help human resource leaders gather vital feedback from their employees as a pivotal part of leading successfully through this unprecedented period of change. 
I recently spoke with Becky Cantieri, SurveyMonkey's Chief People Officer, about 2020 in the life of an HR leader and some of the initiatives employee feedback is driving. 
The pandemic has forced organizations everywhere to change how and where their employees work to keep operations running while also minimizing business risks. For SurveyMonkey, this meant a shift to a fully-remote working environment, creating a need to increase the frequency of sending employee pulse surveys. Read on to learn how Cantieri and her team are using rich and insightful data to make forward-looking decisions—and what she reminds herself of to stay grounded during challenging times. 
Can you speak to striking a balance between "crisis management mode" and running day-to-day operations?
I think the best analogy to use is it's a little bit cyclical. When the pandemic began, there was this intensity around managing the crisis, making decisions, thinking through how we were going to pivot to virtual, and what was important. How were we going to support employees in that transition? And then, we settled into virtual mode, things were working well—and we were able to shift the focus back on, for example, hiring velocity, our feedback and GIG (Growth, Impact, and Goals) programs, virtual mentorship, and refining our operating model to support work in an entirely virtual environment for an extended period of time.
Then, either through our survey data or through some other milestone or external event, we would find ourselves back in crisis mode. We went from thinking this is going to be a month or two to realizing this is going to be a very long period. And we would re-enter an intense period of planning, communicating, and executing against our updated COVID-19 playbook. So finding the balance was more about agility and prioritization at that moment.
Make critical business decisions, backed by insights
Explore our Return to Work solutions, built to help businesses pivot quickly and adjust to new ways of working.
How is SurveyMonkey leaning into the feedback and employee feedback to prioritize employee well-being?
A persistent theme through all of our various touchpoints with employees were areas of social isolation and mental well-being. Whether it was through our employee engagement, or our benefit open enrollment survey, where we were collecting feedback as we prepared our benefit offerings for the following year, we consistently saw the themes of mental health being an area where employees were in various stages of need, and reaching out for support. Each of those different touchpoints gave us insight into something we could do to help, or what employees were longing for.  These themes in our data informed our support offerings to include: adding flex days, giving employees a reprieve from Zoom and the stress and anxiety of life, and offering an employee stipend to allow employees to set themselves up at home to work comfortably and productively.
We focused on more clearly articulating our mental health resources for employees, whether that was through their medical plans, through Ginger, or some of the other Employee Assistance Programs (EAP).  We, as leaders, spoke openly and honestly about stress, anxiety, fatigue, and the effect of compounding crises in the world and how we—as leaders and managers—can help support our employees through it to normalize these experiences. And we strongly encouraged employees to take time off, and parents and caregivers to do the best they could recognizing the additional responsibilities they had at home as a result of the pandemic.  We encouraged empathy and understanding.
I imagine there was a ramp-up of surveying employees in 2020. Has that changed the course of how SurveyMonkey runs employee surveys and, do you recommend others in your field to do the same?
Absolutely. Being a feedback company, we've always surveyed our employees a lot. It did ramp up last year and we are looking at a few ways to optimize this year as we started to see some survey fatigue set in towards the end of the year. For that reason, we want to make sure we create a cadence for our surveys in a way that helps us get really rich feedback from employees.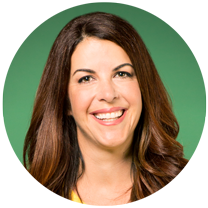 "For a company that isn't asking their employees for feedback and using it to shape their support programs and initiatives, I would say there has never been a more important time than now. Your ability to attract, retain, and engage your team well depends on it."

Becky Cantieri, Chief People Officer, SurveyMonkey
We work hard to set a good example and encourage companies of all sizes to ask for feedback on the topics that matter most, by sharing our templates, experiences, and how we make critical decisions based on the data and insight that we're getting. It's our opportunity to demonstrate the power of our product and the value it can add to an organization.
We make big decisions, that we direct our investments on, things like benefits, real estate, and learning and development—which are some of the biggest investments SurveyMonkey makes each year—in terms of how expenses are directed by employee feedback.
COVID-19 and several notable events of last year brought a renewed attention to the social and racial issues in this country. How is SurveyMonkey honing its diversity, equity, and inclusion (DEI) initiatives?
I'm proud that SurveyMonkey was focused and thoughtful about DEI before this year. So this isn't an entirely new area of focus for us, but I would be remiss if I said I thought we were doing all that we could or should be doing. This year taught us where we can do more. And, we're doing just that. Following the death of George Floyd, we pulled together a racial justice task force to focus on important initiatives and areas of investment. This task force has held us accountable for not just saying we're going to do more of, but actually doing it.
We've doubled down on our hiring, the pursuit of our external demographics goals, and on our investment in belonging and inclusion. We continued our bi-annual pay equity study, which is an important cornerstone of building a diverse and equitable workplace at SurveyMonkey. We still have a lot to do, but we're pleased with our efforts to date and our areas of focus. And I think Antoine Andrews, SurveyMonkey's new chief diversity and social impact officer, for example, is going to be a great new partner in this space and bring even more expertise and credibility to SurveyMonkey.
Shifting topics a bit here. Industry analysts are talking about analytics being critical for modern HR. How do you think HR leaders can use employee feedback analytics to drive business strategy?
So much we've already talked about, for example, the use of the data to help make informed decisions in how we invest our dollars to better support employees is one area of influence that's already happening. But I think it's very fair to say that, historically, HR analytics have been a little bit more rearview mirror than they have been predictive and future-oriented. For example, looking at attrition data after it happens. But, if we can begin to look at predictive analytics, versus rely on data once they've gone out the door, we can look for signals such as dips in engagement and indications of retention risk, which better positions us to proactively address talent retention. And that's just a small example.
Or, looking at hiring and meeting your hiring demand after the quarter is closed to measure success. What we've learned this last year and over time is how powerful it is to get into the world of predictive analytics, and forward-looking analytics, and being able to use rich and insightful data to make forward-looking decisions.
If our objective is to attract, develop, and retain great talent that can help us exceed our business objectives—truly understanding the experience of our candidates and employees is critical. It best positions you [or us] to develop an employee value proposition that will resonate with them.
As an HR leader, what kind of predictive analytics would you like that you don't have today?
A category of analytics that we'd love to have better insight into relate to "how we work." As a result of COVID-19 we, like many others, are reimagining work at SurveyMonkey. One of the biggest gaps we have, that we've begun to fill with our re-imagined work survey, is understanding from employees how work gets done and how to optimize how work gets done in the future. For example, we've heard a persistent theme around meetings and the effectiveness of meetings, and the balance between meetings and time for productive work. Meetings serve a purpose, but individual productive time to work—to code, to write, to design, or to advance projects—is the critical execution required to deliver on OKRs, bring product to market, or develop the marketing materials your sales team needs. At this time, it's difficult to get data and insights around how much productivity would be gained if we optimize meetings more.
And that's just one example. When we're thinking about the future of work, those insights into "how employees work" would help us design a strategy that would meet the needs of employees and position everyone to have the right balance of meetings and productive work time. So I know that's not entirely predicted just yet, but it can help us predict how we work in the future. 
I think attrition or retention is another big opportunity. Whether you're looking at employee engagement scores, employee productivity, or if employees are selling their stock, is there a correlation between these activities and an intent to leave? And, combine that with what they tell you directly in an employee engagement survey around their intent to leave.
Do you have a sanity motto or a phrase that keeps you grounded?
I would say "there's nothing that we can't get through." If I've learned anything throughout my entire SurveyMonkey experience, it's that we are a very resilient team and organization. 
We have hard problems to solve and it's important to approach them with empathy, thoughtfulness, and transparency. When we listen to employee feedback and use it to inform our decisions and solve problems, we're building trust and confidence that we're coming from a good place. For example, one of our solutions may not be perfect as we're working quickly,  but because of the goodwill we've created by listening and taking action on the feedback, employees are a bit more forgiving of our mistakes from time to time.

Last year, there were definitely brutal days where there were tears, heads down on our home desks, but we got great employee feedback along the way. We'd get a couple of "you guys missed the marks," and we'd say, "ok, back to the drawing board." But by and large, we would get the, "hey, we know you guys are doing the best that you can, thank you for taking care of the team." Which is all you could ask for and gives you the energy to keep on keepin' on. 
Get feedback solutions, survey templates, and professional support to help you plan for the present and future of work. However that looks for your organization, SurveyMonkey is here to help. Learn more about our Return to Work solutions here.