Here's some great news for all you market researchers out there: If you use surveys to perform demographic segmentation on your target market, you no longer have to take up valuable survey real estate by asking questions like, "What is your age?" and "What is your estimated annual household income?"
That's because when you send your survey to a targeted group of respondents using our SurveyMonkey Audience panel, we automatically pipe 5 types of demographic data directly into your survey results: gender, age, household income, type of device used to take the survey, and the US census region of every survey respondent.
Market research you can get done today
Looking for a fast and easy market research solution? Meet our global consumer panel SurveyMonkey Audience.
What does this mean exactly?
Our sophisticated analysis tool gives your data a fresh, modern look, improved functionality and many more impressive chart types to choose from. This is where the magic of our imported demographic data all happens.
A picture's worth a thousand words, so check it out: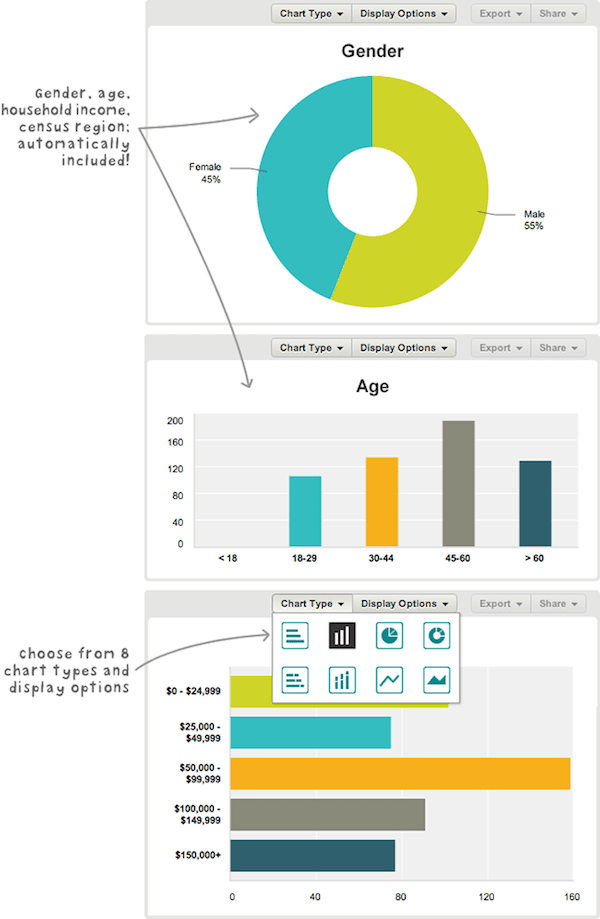 As you can see, we automatically import your demographic segmentation data—gender, age, household income, device type, and US census region—so you don't have to!
Also, with just a few clicks inside our analysis tool, you'll be able to get your hands on 8 customizable chart types as well as table display options, which allows you to either show or hide charts and tables for any of your questions.
Ready to start? You can learn more about our Audience survey panel here and as always, let us know if you have any questions or comments!