However, the survey was 57 questions, took an hour to finish, and had a completion rate of less than 18%. The resulting survey reports, which were supposed to provide feedback to station managers, were lengthy, difficult to interpret, and presented too much data. "The survey asked everything from what was your origin and destination, to have you stayed at a hotel in the past 12 months?," said Matt Schoolfield, Manager of Commercial Analytics at Greyhound. "It was not valuable information for the company."
In time, the post-trip survey was sidelined because it was too complex to interpret and take action on collected data. NPS (Net Promoter Score®) ratings fell, station complaints were not fully understood, and managers were left without an action plan.
A simplified survey approach
Matt knew feedback was a critical part of improving customer service. He took the initiative to find a new platform to simplify the survey process, and deliver feedback to station managers that was both easy to understand and actionable.
Greyhound chose SurveyMonkey Enterprise to work with their Salesforce deployment to handle their survey needs. "We're a Salesforce company," said Matt. "So, SurveyMonkey checked off two buy-in factors: SurveyMonkey understands GDPR. SurveyMonkey gets Salesforce. That's huge for us."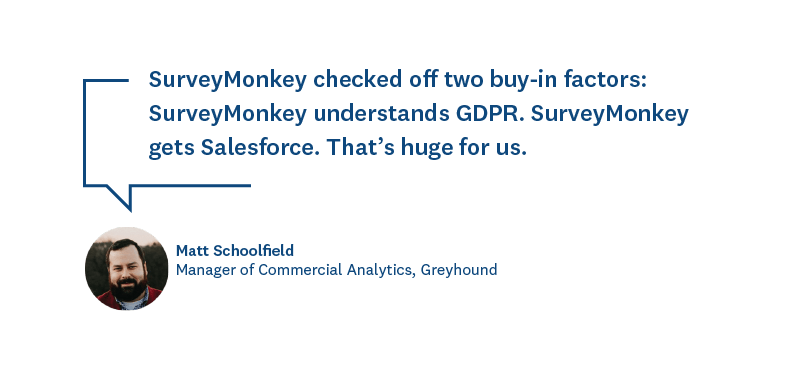 The company also brought in Thematic, an AI platform that offers an integration with SurveyMonkey to identify, quantify, and visualize themes in open-ended text feedback. With the new platforms deployed, Matt began refining their survey process.
The lengthy survey was replaced by a new 5-question survey, which includes NPS and one open text question. Response rates hit 94%, and data was shared using Thematic's dashboards, highlighting top customer issues and reducing the time for a station manager to read customer comments from 3 hours to 3 minutes per week. "Within a few months, our NPS score was up almost 15 points," said Matt. "It changed the way that data was getting into people's hands. And, it changed what they were able to do with it."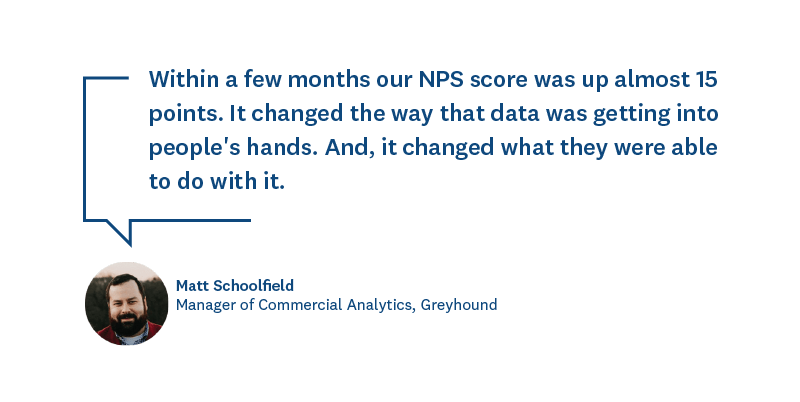 Matt also refined the way post-trip surveys were sent. "Today, we send a post-trip survey email 24-hours after a trip is completed," he says. "It's triggered inside of a Salesforce journey so it can be personalized and identifies that a trip has been completed." The link in the email brings in about 85% of Greyhound's responses. Matt plans to eliminate the origin and destination questions, and connect that information by confirmation number in Salesforce.
Drilling into data to improve station performance
SurveyMonkey's integration with Thematic allows Greyhound to eliminate manual feedback analysis of open ended responses. Thematic automatically detects themes in open ended responses, then calculates their impact on scores or ratings like NPS.
With SurveyMonkey and Thematic, feedback is much easier to understand. "Before, we were sending out manual reports that looked like giant report cards; very difficult to read, a lot of data." After one year, 85 - 90% of station managers are logging in to get a daily view of a specific station in their city. Instead of reading through thousands of comments, Greyhound analysts, station manager and executives can all log into Thematic dashboards to quickly uncover what drives loyalty and satisfaction.
The ability to correlate open ended responses with NPS and other metrics from short surveys surfaced actionable insights that other approaches would miss. In one instance, Thematic tied restroom complaints to drops in NPS. Checks were done to confirm that the bathrooms were clean, but the negative feedback continued. Ultimately, Thematic surfaced the issue in open ended feedback: having only one janitor on duty meant that the women's bathroom was being closed for cleaning for 45-minutes during the busiest part of the day. Once the real issue was identified and the station took action, NPS shot up significantly.
Greyhound now uses survey data to drive value at the corporate level. By tying survey metrics to revenue items, the company has identified ways to uncover both opportunities and places to improve.
"We recently ran a big churn survey through SurveyMonkey," said Matt. "We wanted to understand what percentage of customers ride Greyhound once and don't come back. And of those customers that don't return, why don't they?"
Matt analyzed transactional data, and used a survey to find out from customers who didn't return why Greyhound wasn't considered.
"That survey shed a ton of light on issues with on-time performance, ticket pricing, terminal conditions; whatever it may be," said Matt. "We could understand why our customers weren't coming back."
Matt took the study to the next level. "We were able to pinpoint that an on-time performance increase on our survey score generates a specific amount of additional revenue. And that was a game-changer." These results were shared with the CEO, who began to spread the word about the value of feedback.
"It showed us how valuable survey metrics are, and how valuable perception is by our customers," said Matt. "And it pinpointed areas where we can make improvements to our bottom dollar in our profitability."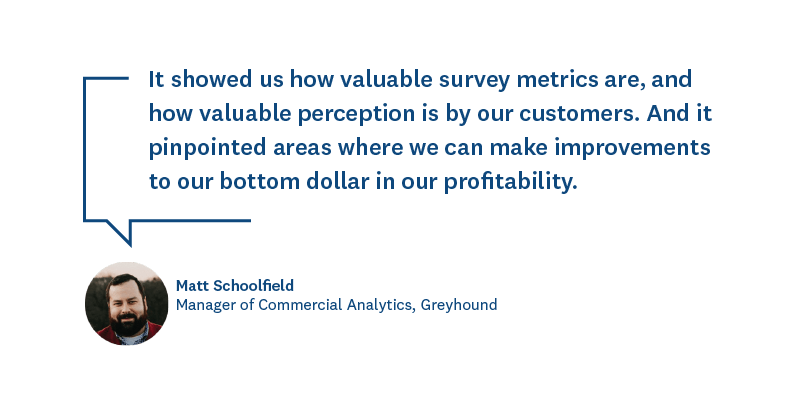 Net Promoter, Net Promoter System, Net Promoter Score, NPS and the NPS-related emoticons are registered trademarks of Bain & Company, Inc., Fred Reichheld and Satmetrix Systems, Inc.