With coronavirus cases reported in all 50 U.S. states and worldwide (and additional data coming in all the time), social distancing is more critical than ever. Those who are able to work from home have gotten the go-ahead from their employers—which means there's a brave new world of remote workers out there. 
According to a Wrike study conducted via SurveyMonkey Audience, it's not all couch commutes and business casual sweatpants. Nearly half (49%) of workers said that they never work from home. An additional 43% of respondents didn't believe they can do their jobs as effectively while working from home, while 52% said that a work from home policy would seriously harm their organization's productivity. These stats reflect some of the challenges workers are facing, and many companies are hustling to find ways they can collaborate efficiently in a rapidly-evolving landscape.

Here at SurveyMonkey, we're used to considering the needs of teams, whether they're sitting side by side or hunkered down and working from home. Here are our best tips and tools to help keep you productive and make sure your survey results have an impact. 
Tools to (over)communicate
We've found that 81% of customers say they create better surveys and get better results when they have input from others. Since overcommunication is key when it comes to remote work and survey creation, remember that you can use SurveyMonkey to open new lines of communication—or widen those that already exist. 
Instead of sending back-and-forth emails or hosting repetitive virtual meetings, invite your team or stakeholders to comment on your survey design. This will keep everyone in the loop so you'll know whether you're asking the right questions before launching your survey. Comments are visible to everyone, so it's easy to quickly sync up about what's working and what's not. 
You can also leverage your day-to-day collaboration channels by installing our integrations with Slack, Microsoft Teams, or Google Drive. If, for example, you regularly collaborate via Microsoft Teams, you can give everyone an interactive preview of your survey right in that familiar channel. Then, use Microsoft Teams to have a conversation about where your survey stands or invite comments from specific people with a simple @-mention. 
Pro tip: If you're on a team or SurveyMonkey Enterprise plan, grant your research expert(s) permission to go in and edit your questions and survey logic. That way, they won't have to communicate their feedback and wait for someone else to take action.

Organizing meetings to touch base on survey feedback can be tricky when everyone's working remotely. Instead, help stakeholders self-serve results so they can make critical decisions at exactly the right moment. Start by setting up response alerts in SurveyMonkey so stakeholders are notified as soon as survey responses start coming in. For urgent results, set up instant notifications in a Slack or Microsoft Teams channel to keep the ball (and feedback conversation) rolling.
Want to make sure your team understands the key takeaways from your survey? Create a results dashboard to present everything in an easily digestible format with customized visuals and text that explains your charts. Then post the dashboard link to internal channels your team uses daily.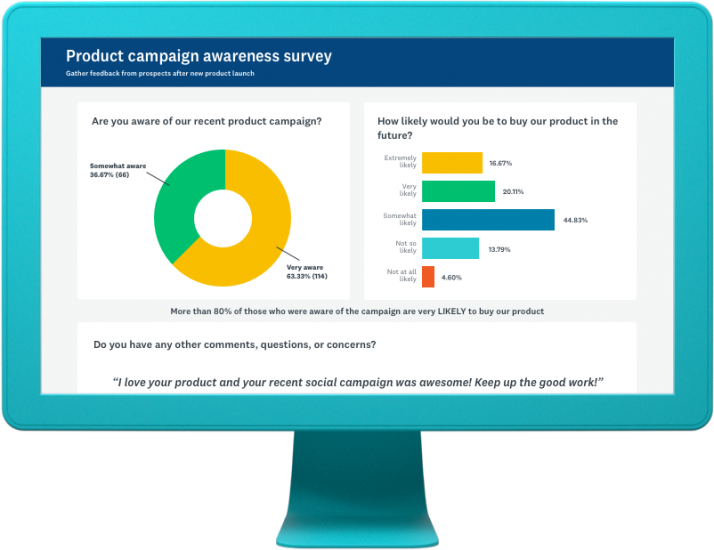 If you're on a SurveyMonkey team or Enterprise plan, grant full access to results so people can set up filters and export data from the respondents that matter most to them. You can also supercharge your ability to collect data by giving full editing and analysis permissions to anyone who needs to be involved in the feedback process.
Tools to streamline your surveys
If your plan supports it, make it easier for your whole team to stay on brand by loading up your Library with branded survey assets. For example, say your managers are planning to use our manager check-in survey template to get a read on how their direct reports are handling the shift to remote work. Before sending the survey, they can make it feel a little more familiar by hitting up your Library for your logo, company images, and other branded finishing touches. 
SurveyMonkey Enterprise admins can also create a custom question bank for your entire team to reference and use in their surveys. This will ensure consistent survey creation across the board, making it easier for everyone, everywhere, to get the right feedback and compare results.
Survey creation is a team sport, even when working from home is in play. We have the right collaboration tools to help you create quality surveys and guarantee that results are seen by the right people. Get started with the tips in this article—near or far, your team can make it happen!