SurveyMonkey for Good is on a mission to use People Powered Data to improve our world and give everyone a voice. One of the ways we do this is through Contribute. Contribute allows survey respondents to choose which charity on our platform gets a donation for every survey they take. This article is part of a series highlighting the impact those donations have made.
Since 2011, SurveyMonkey users have helped us donate $1.2 million dollars of unrestricted funds to Doctors Without Borders/Médecins Sans Frontières (MSF).
An international medical humanitarian organization founded in 1971, Doctors Without Borders provides free medical care to people caught in crisis in more than 70 countries around the world. From conflict zones to natural disasters, they provide impartial, lifesaving care to those who need it most.
Here's just a glimpse of some of the work that our SurveyMonkey dollars helps to support. 
More than four years of war have left Yemen's health system in ruins, cutting off millions of people from care and leading to outbreaks of preventable diseases like cholera and diphtheria. Attacks on civilians and medical structures make it extremely difficult to reach the people who need care the most.   
Doctors Without Borders projects in Yemen are among the group's largest worldwide. Across the country, they treat war wounds, provide maternal and pediatric health care, and fight outbreaks of disease. Insecurity and repeated attacks against medical facilities complicate this work. Doctors Without Borders facilities have been targeted by airstrikes and explosives, and insecurity has forced the closure of others.
Despite these challenges, Doctors Without Borders provided 535,600 outpatient consultations, admitted 63,100 people to hospitals for care, and assisted 24,600 births in Yemen in 2018. The financial support from programs like Contribute help support their work in Yemen and around the world.
Fighting Ebola in Democratic Republic of Congo
Democratic Republic of Congo (DRC) is coping with the second largest Ebola epidemic on record, with over 3,000 confirmed cases and at least 2,000 deaths since the outbreak was declared on August 1, 2018, according to the World Health Organization. Doctors Without Borders is on the ground caring for patients, reinforcing infection prevention and control measures in health facilities, and supporting vaccination efforts. They're also working to address pressing non-Ebola health needs in DRC, including fighting measles outbreaks, treating malnourished children, and providing medical and mental health care to victims of sexual violence.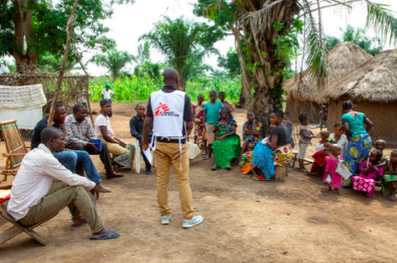 Tackling an Ebola outbreak is always challenging, but the current outbreak is unfolding in a conflict zone. Fighting in the region complicates the process of tracing the contacts of people confirmed to be suffering from Ebola, a crucial part of containing the epidemic. Doctors Without Borders works closely with local communities to plan the most effective response—and to meet the most urgent health needs.
They're deeply invested in this kind of lifesaving, community-based work.
Investing in mental health
In addition to tending to injuries and illnesses, Doctors Without Borders teams also treat invisible wounds. The organization provided mental health services in 54 countries in 2018, including group and individual counseling programs. Mental health care can help people cope with violence, loss, or displacement—all common realities in the places where Doctors Without Borders works.
Every bandage, every vaccine, every clinic needs a financial backer. Doctors Without Borders can only continue their important work because of their supporters around the world—and we're proud to be counted among them. If you want to support them, check out Contribute, and select Doctors Without Borders as your charity of choice.