That's why we're excited to announce new features for our SurveyMonkey Audience panel and Momentive Insights Solutions. Powered by our AI engine, these intuitive features will help you turn around insights and understand your global audience faster than ever. With them, you can survey multiple audiences at once, choose relevant target markets, and get actionable insights faster to drive business decisions.
Reach your ideal audiences even faster 
Our new Audience features will enhance your targeting experience and help you reach more accurate respondents. Introducing: panel delivery timeline, multi-market checkout, and predictive panel recommendations.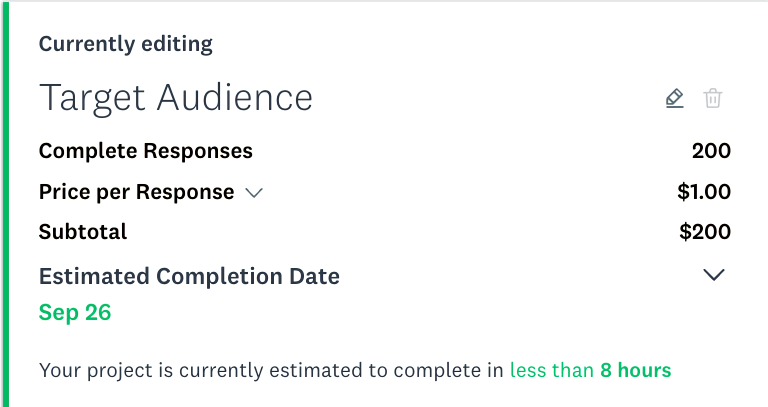 Panel delivery timeline gives you a down-to-the-hour estimate of when your project will complete. As you select your targeted audience, you'll see the estimated time automatically update with any new criteria added. Within a few hours, you'll have access to rich analysis dashboards. In fact, most of our projects complete within six hours. 
Take Chime Bank, for example. When Chime came to SurveyMonkey, they needed to conduct a research project to determine whether a partnership with the Dallas Mavericks would be the right fit for their customers. However, they needed answers by 6pm that same day. So, the project launched by noon, and ended up completing by 5:04pm. Today, Chime would be able to see that this project would be done within 6 hours, which could help them anticipate the time they had left to conduct analysis and put together a presentation. 
In this market, speed is key to driving innovation and delighting your customers. At times, this means making decisions fast, and with our panel delivery timeline, you can anticipate just how quickly your project results will be ready to meet a tight deadline.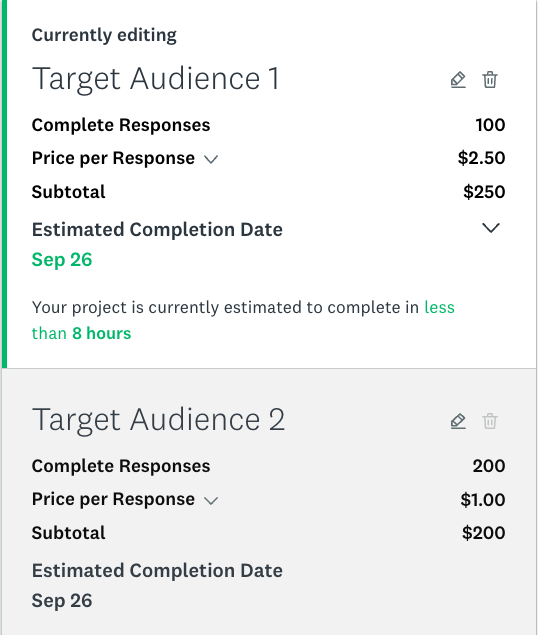 Multi-market checkout allows you to reach multiple audiences at once. Instead of relaunching your survey to a new audience with multiple collectors, you can easily add another audience and set the number of responses you'd like from each audience. Once your survey is done fielding, you'll have easy segmentation and analysis between your target audiences.  
Not only can you survey multiple audiences in just a few clicks, you can also use the number of responses option to set quotas for each audience. Pro tip: You can even pair multi-market checkout with our multilingual feature to target regions with different languages.
Let's say a company that sells plant-based meat alternatives wants to gauge demand on both the east and west coasts of the US. With multi-market checkout, you can set a quota of 500 east coast respondents, and a second quota of 500 west coast respondents, in just a few clicks. This quick way of comparing additional target segments will make your research much easier, no matter which industry you're in.
Predictive panel recommendations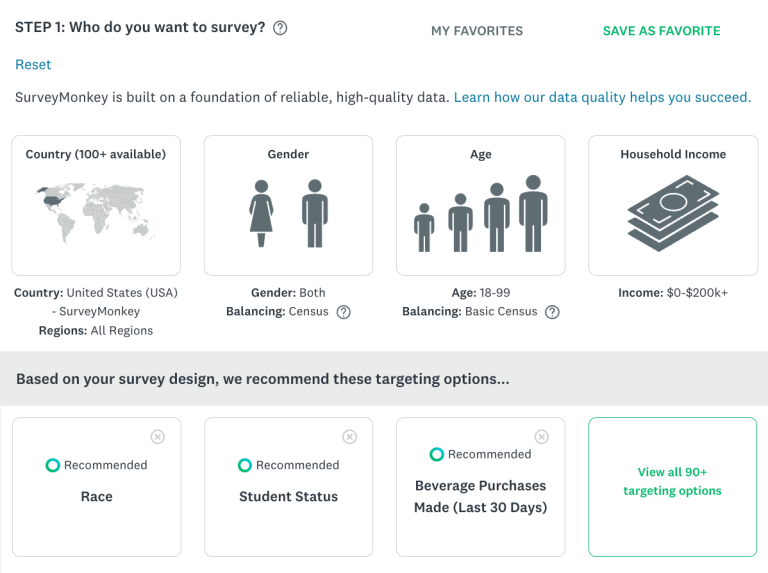 Predictive panel recommendations surface additional targeting options tailored to your survey, so that you can reach relevant audiences and gain accurate insights. Our AI-based algorithm will scan your survey's title, category, and question text for information, and recommend specific audiences such as a certain employment status or behavior.
Without having to manually input screening questions, you can automatically add relevant targeting to your survey. These recommendations surface audiences that have sufficient incidence rates, which ensure that your survey can be sent out to the number of respondents you're looking for. This makes your fielding process much quicker and more effortless.
For example, a pet company may be validating a pet food idea. Our algorithm can read their survey, and recommend that they target respondents with specific habits, such as having visited a superstore in the past 6 months.
Bulk up your insights with enhanced analysis 
At Momentive, we offer a robust suite of testing solutions to conduct market research along the product and creative development processes, from Concept Testing and Package Testing to Message Testing and Ad Testing. A key feature that makes these tests so reliable is that they can include industry benchmarks that provide critical context on how your new product, ad, or website messaging will stand up to competitors. These solutions provide you with the insights you need to inform bold decisions and achieve your desired outcome.
Enhanced & expanded benchmarks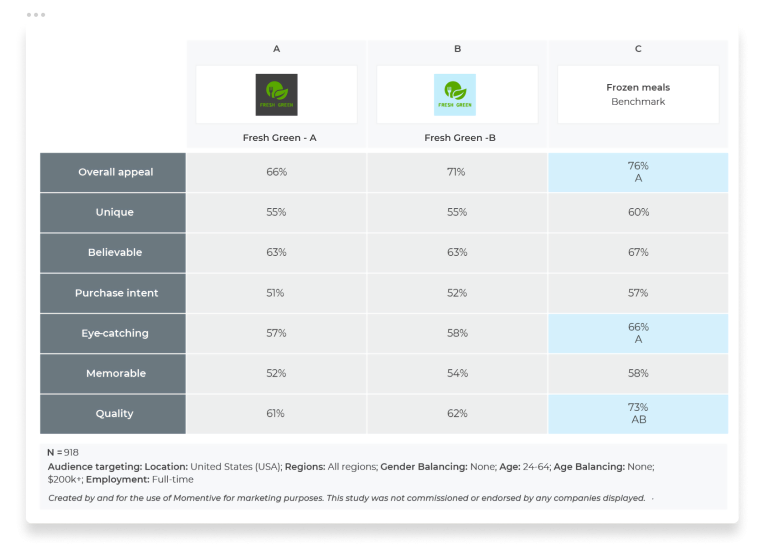 We have recently expanded our benchmarks into new categories and industries such as streaming services, trading platforms, and eCommerce, and they are now available in over 100 different industries. Our existing benchmarks are also continuously being revamped to ensure that the most relevant products and brands in an industry are included.
In your concept or creative tests' analysis scorecard, you can easily scan how your idea measures up against the industry standard. This way, you can get more accurate and relevant insights, no matter which industry you're in. 
For example, 45% of consumers may say they would be "very likely" to buy your product. This is seemingly good, but if the industry benchmark for consumers who would be "very likely" to buy a product is 60%, your product's purchase intent is actually below the industry standard. 
Expanded engagement models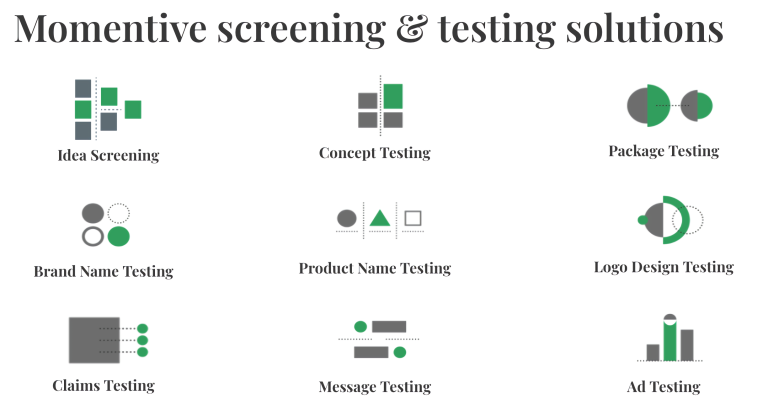 Along with updates to our product, we are expanding into new engagement models for all our screening & testing solutions, which will offer users more flexibility on how they'd like to engage with our solutions. With unlimited access to our screening & testing solutions, we aim to increase the value that users get from our solutions, without any friction. Learn more about our benchmarking capabilities and contact us to take advantage of our new engagement models.
Explore our Market Research solutions
See how our full suite of flexible solutions can help you uncover meaningful trends and insights, fast.
Our Brand Tracking solution helps brands continuously monitor brand performance, with instant insights on awareness, perception, and loyalty. New enhancements and innovation in analysis and reporting allow for an even deeper understanding of brand health.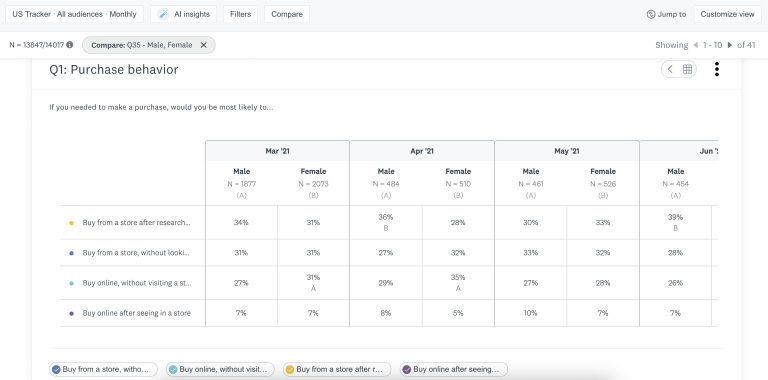 Among the latest features in Brand Tracking analysis are deeper and more accurate insights, as well as small but mighty improvements to make analysis easier for you and your team. These capabilities include:
Unaided awareness enhancements: automatically capture any brand name misspellings
Compare by: compare metrics with new views that matter most — over time, by market, by demographics, or by specific questions
Brand funnel enhancements: easily compare your brand health metrics against your competitors in the brand funnel
With these advanced analytics, you'll see improved data visualization, increased open-ended accuracy, and more granular competitive insights. Learn more about Brand tracking and our continuous commitment to AI-driven innovation.
We hope that these features will be helpful to you in your market research, whether you're looking for a specific audience or diving into brand and product insights. The right market feedback is key to navigating unpredictable changes, and our market research solutions and experts are only a click away.