Providing a safe place for your employees to learn and grow goes a long way toward boosting employee happiness and overall business health. How do we do this at SurveyMonkey? In a number of ways. We're here to share a few standout programs that work well and that we're proud to call our own. Who knows—they just might inspire greatness on your end as well.
Employee Resource Groups (ERGs)
Fostering a diverse, equitable, and inclusive environment not only encourages a sense of belonging, but might even be your recipe for success. To ensure we live up to this goal at SurveyMonkey, we established Employee Resource Groups (ERGs). These are voluntary, employee-led, and based on shared affinity i.e. identities or life experiences, like gender, ethnicity, or sexual orientation.
ERGs serve as a resource for colleagues, for the business, and for our respective external communities. They're also sponsored by our leadership to deliver programs that advance SurveyMonkey's mission, values, and business objectives.
"We want to create an environment where employees of every background feel comfortable and empowered."

Zander Lurie, CEO SurveyMonkey
SurveyMonkey currently has five ERGs:

Blatinos
Founded to support Black and Latinx employees at SurveyMonkey, Blatinos aims to advance the professional development of its members, partner with other organizations, and raise awareness to the challenges faced by the Black and Latinx communities today.
Mosaic
Mosaic strives to strengthen the experiences and advancement of Asians in the workplace via increased awareness of its diverse and multicultural community, fostering connections, and promoting professional development.
The Queerious
This group aims to create an accepting and inclusive environment that serves the needs and interests of all SurveyMonkey employees and the surrounding communities regardless of gender identity and sexual orientation.
WIN
WIN's goal is to strengthen women in the workplace through educational programs, partnerships, and events that provide information, connections, resources, and opportunities.
Womxn in Engineering
This group works to further the careers of self-identified female engineers and allows them to feel supported in their current roles.
"When we bring all values and perspectives to the table and give everyone a voice, we foster an inclusive environment for our employees which empowers us to be more innovative for our customers."

Melynnie Rivizi, Director, Employment, Inclusion and Impact, SurveyMonkey
Diversity, Inclusion & Impact Groups (DIIGs)
Opportunities to challenge one's views are crucial. They open the dialogue for moving your workplace and our world in a better direction. To address some of the social causes present in our communities and daily lives, we created Diversity, Inclusion & Impact Groups (DIIGs) at SurveyMonkey.
Similar to ERGs, DIIGs are voluntary, employee-led, and dedicated to driving action for topics like environmental sustainability, homelessness, and mentorship for students, to name a few. We currently have six DIIGs based out of Amsterdam, Dublin, Ottawa, Portland, NYC, and San Mateo. Beyond the traditional definition of diversity, the word has a bit more meaning for us at SurveyMonkey.
We asked our DIIG leaders, "How would you define diversity?" You'll find their anonymous definitions throughout the blog.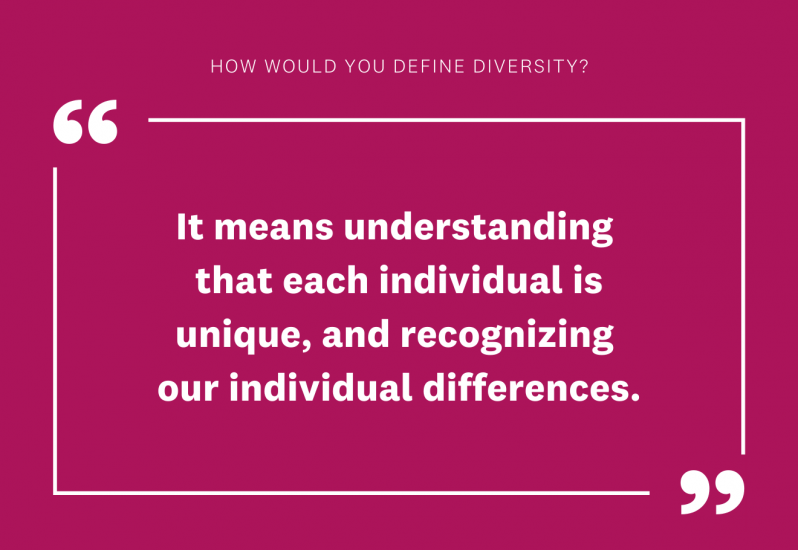 What do ERGs and DIIGs look like in action?
To help you visualize both of these programs at SurveyMonkey, we asked our DIIG & ERG leaders to share their favorite initiatives. Looking at the shortlist, you can tell that they never run short on powerful ideas.
Hopefully these kickstart some plans of your own!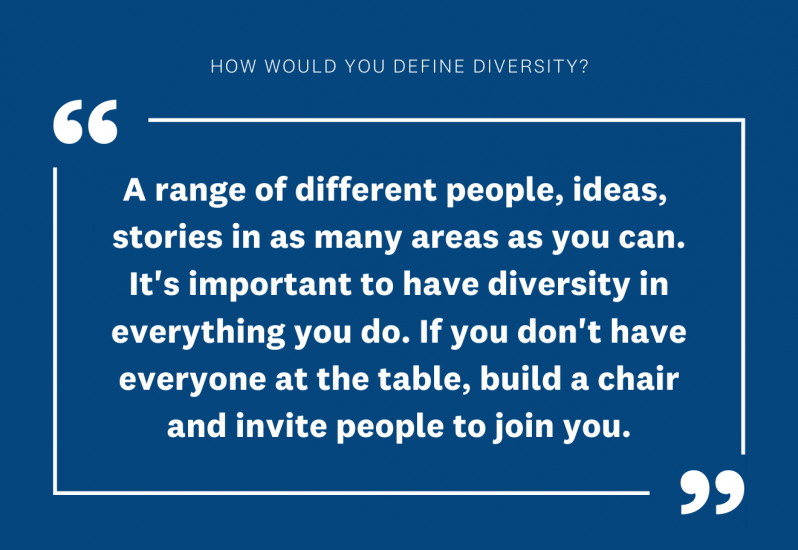 During the month of February, our very own Shonnah Hughes posted Black History facts via our company-wide Slack channel. Every day, she highlighted the landmark contributions and milestones from Black leaders that shaped the technology industry as we know it today.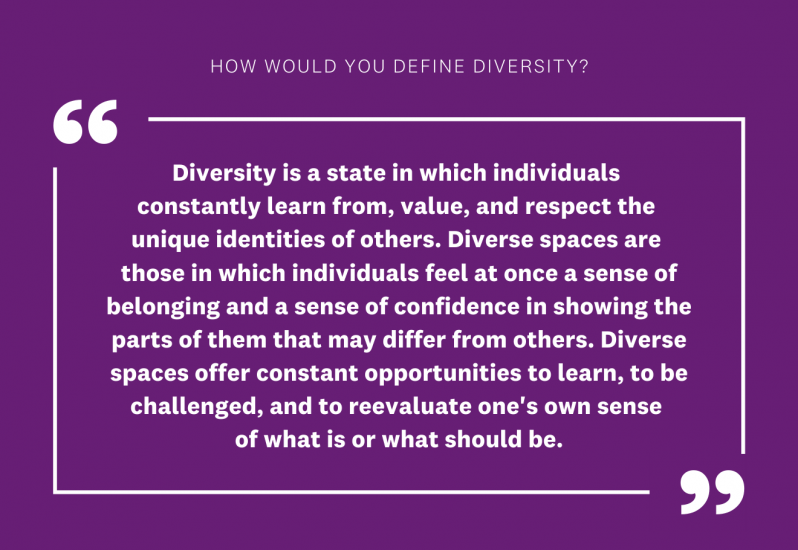 Our DIIG leaders coordinated with former military intelligence analyst and rising politician Pam Campos to speak with the SurveyMonkey team. She shared her experience as a Latina in the military and working with U.S. Representative Alexandria Ocasio-Cortez on diversity, equity and inclusion. It was incredibly inspiring for us to hear her courage first-hand.
"The work here to lift up diversity and inclusion feels ever-present, and, more importantly, actually effective."


DIIG leader at SurveyMonkey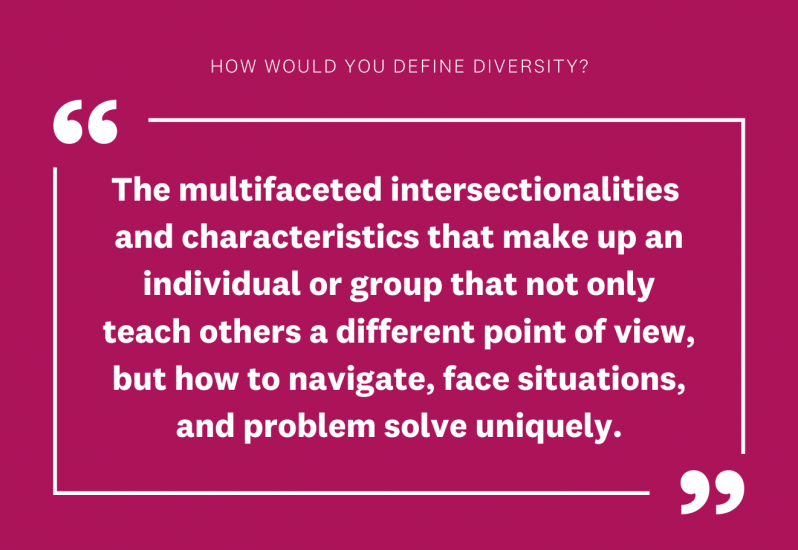 During this highly engaged initiative, our Portland office came together to raise awareness and donations for a number of non-profit partners in the area. The week culminated with a pizza party and trivia session where employees sat with different folks across teams.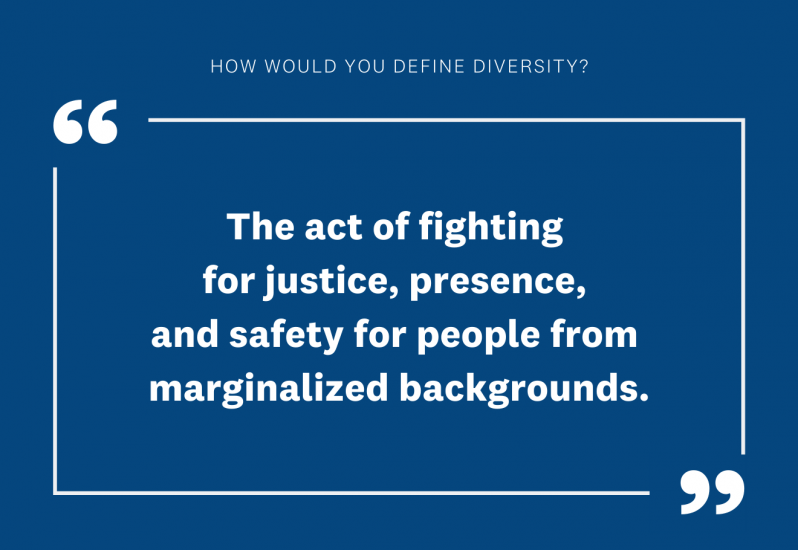 Due to COVID-19, the team had to quickly pivot its plans for Trans Day of Visibility. Against the odds, the Queerious created posters to highlight trans coworkers, celebrities, and other movers and shakers making a difference in the world. Although virtual, any opportunity to showcase the topic is a win in our book, even if the original plans couldn't happen. Harnessing the power of diversity has never looked so bright!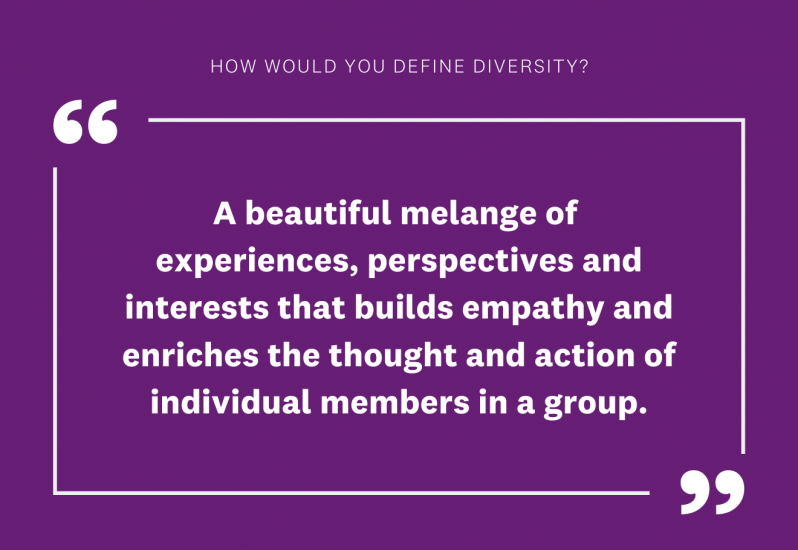 Organized by our social impact group, SurveyMoney for Good, and hosted by the ERGs and DIIGs, these chats offer safe spaces for employees to connect and share outside of ordinary meetings. The informal, yet structured group discussions are guided by fellow colleagues on topics ranging from mental health, racism, xenophobia, and caregiving during COVID-19. These offer a great way to support one another in the face of challenges times.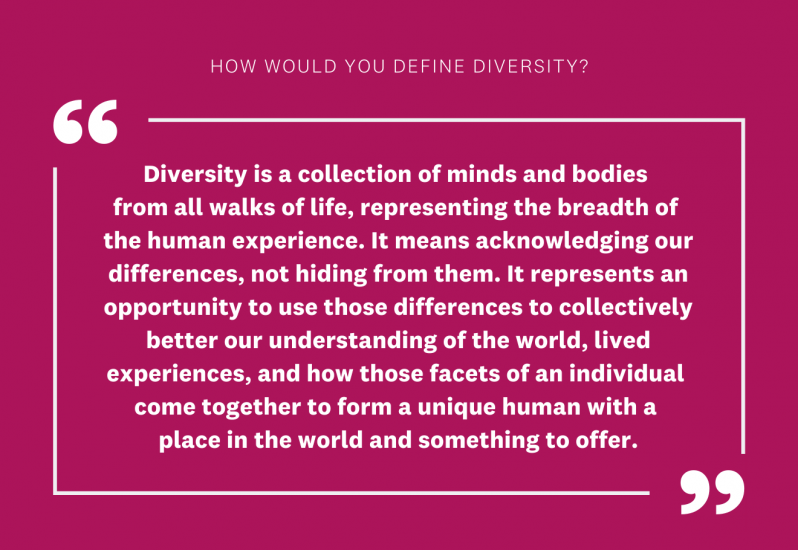 Our Amsterdam office made a difference with technology by spending a few hours creating 3D-printed hands for those around the world who need them. Although the project was part of our social impact initiatives - the topic of diversity, equity and inclusion was front and center. It put a smile on our team's face to see the resilience from the recipients. It goes to show that no matter what we're dealt in life, the differences make us all wonderfully unique.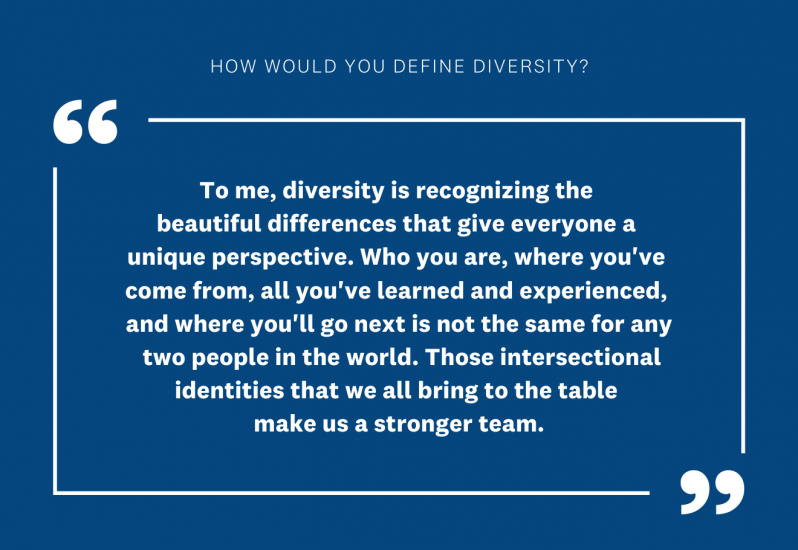 This micro-learning app integrates with Slack and curates weekly content based on employee's diversity and inclusion interests, i.e. topics on mental health, xenophobia, and caregiving. SurveyMonkey maintains its commitment to an inclusive culture. Crescendo is another way we #staycurious (a company-motto of ours) and support our fellow colleagues.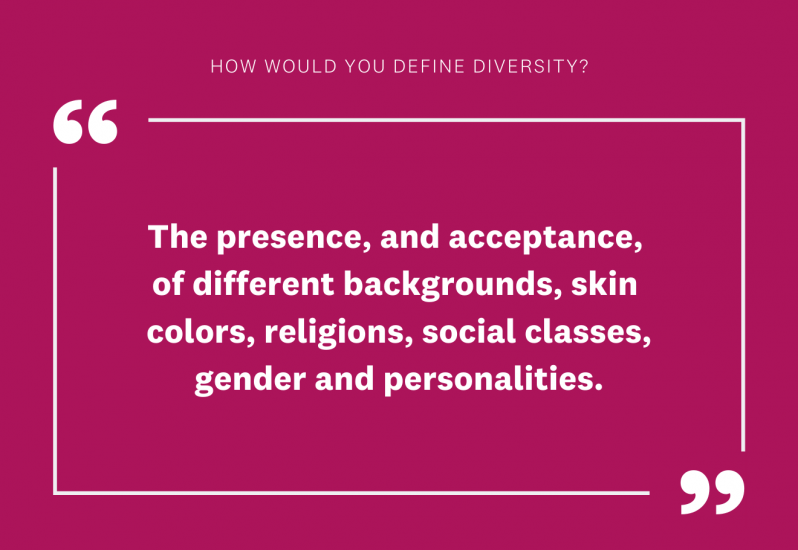 Diversity, Equity & Inclusion Summit 2020
To celebrate all the great initiatives of our ERG and DIIG leaders and make plans for more, we hosted a Summit at the start of the year. From Amsterdam, Dublin, Minneapolis, New York, Ottawa, Portland, and San Mateo, all 30+ of our group leaders came together for two days of workshops and collaboration to plan for diversity, equity, inclusion and social impact work in 2020 and beyond.
They were joined by our CEO, executive leadership, and recruiting teams to foster collaboration and advance these efforts at every level of the organization.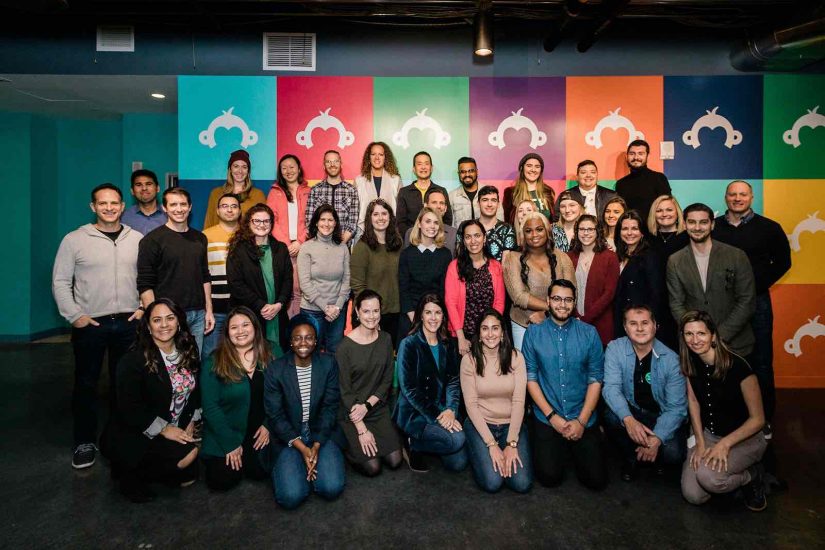 Check where your organization stands with our survey templates

At SurveyMonkey, we don't just want to build diversity and inclusion into our own business; we want to help support positive change in the workforce as a whole. Our Inclusion & Belonging Survey Template helps businesses of all sizes measure and understand inclusiveness within their organization, so they can take proactive steps toward change.
We at SurveyMonkey launched our own survey late last year, asking our employees to anonymously share their experiences and perceptions about our company culture. With an overview of what is going well and areas for growth, our team was able to further build on and live up to our values.