Following an eventful stretch of time in U.K. politics and society, Brits show strong feelings about the role of the monarchy. Nearly three in four (72%) say the British monarchy should not be abolished, while 25% say it should according to a new SurveyMonkey poll conducted from October 26-29 among 2,100 U.K. residents. 
A generational divide in views of the royals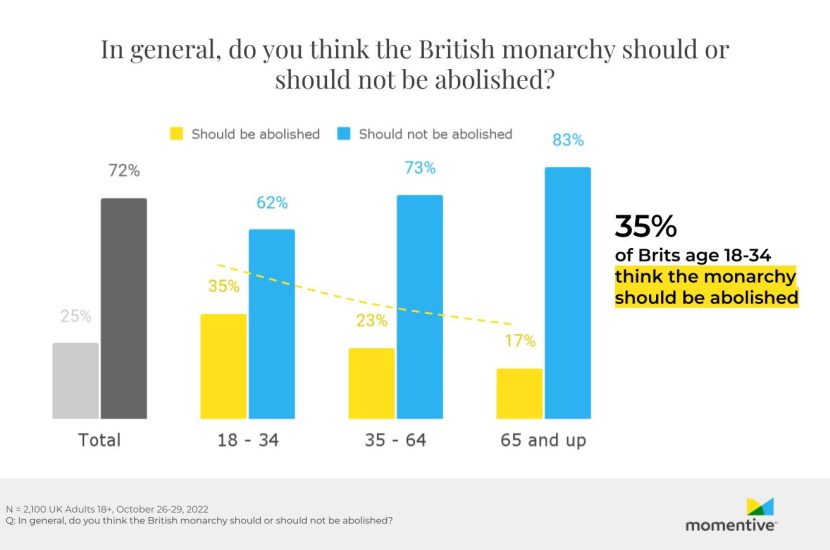 Younger adults feel the most antipathy towards the firm: 35% of young adults under age 35 say the monarchy should be abolished, compared with 23% of those ages 35-64 and 17% of those 65 and older.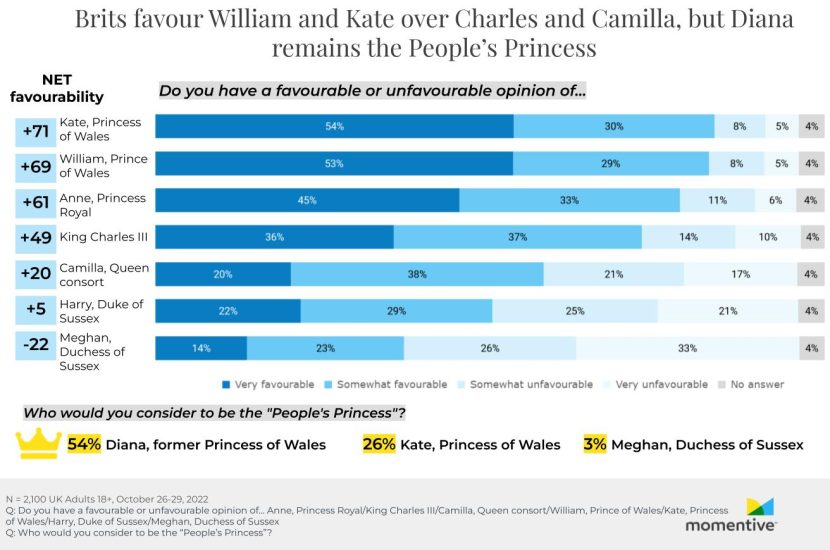 King Charles III begins his reign with high favourability, as 73% of Brits hold a very or somewhat favourable opinion of the new king. However, his favourability ratings are surpassed by those of Prince William (83%), Kate (84%), and Princess Anne (78%). Camilla's favourability is lower (58%), alongside Prince Harry (50%) and Meghan (37%).
Among young adults, many of these favourability ratings are upended. Kate (78%) and Prince William (77%) have the highest favourability ratings among Brits age 18-34, followed by Harry (68%), Princess Anne (66%), King Charles III (61%), Meghan (58%), and Camilla (48%). 
Despite this low favourability, 59% of Brits would support Prince Harry and Meghan moving back to the UK, with 77% of those 18-34, 57% of those 35-64, and 40% of those 65+ supporting such a move. 
Opinions split on the role and responsibilities of the monarchy
It is very or somewhat important to 84% of Brits that the monarchy support good causes and charities, but other roles are more controversial, including acting as a tourist attraction to improve GDP (78%), aiding in international relations (74%), and getting involved in domestic policy (48%). 
About a third of Brits agree that King Charles should pay inheritance tax (39%), should pay for his own coronation (35%), should publish his holdings and accounts (32%) and should have to publish his tax returns (32%). 
A third of Brits (30%) plan to watch season 5 of The Crown on Netflix, but just 5% say they consider the show to be an accurate representation of life in the monarchy. One third (33%) say the show is not an accurate representation, and a plurality (47%) think that "some elements are accurate."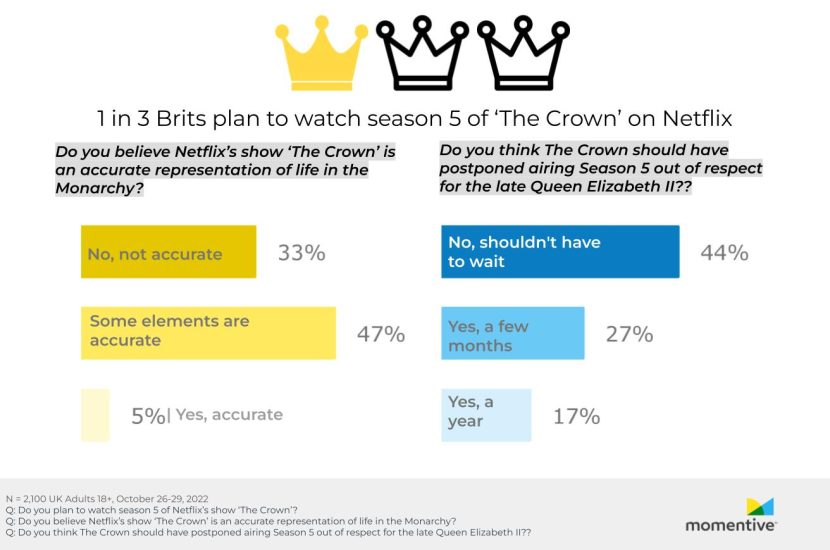 Brits are split evenly between those who think Netflix should (43%) and should not (44%) have postponed airing a new season of the show out of respect for the late Queen Elizabeth II. 
Click through all the results in the interactive toplines below: