Tis the season to buy presents for loved ones, spread cheer, and, according to our data, practice your best fake smile: 79% of recipients return at least some of their holiday gifts. But luckily for gifters, most people (21%) only return a few.
So what separates the winning presents from the losers? How do you find the best gifts to give? Who should you get something for? And how do people think about gift-giving overall? To find out, we used SurveyMonkey Audience to assess over 500 people's preferences and opinions about gifting, just in time for the holidays. 

The statistics of giving holiday gifts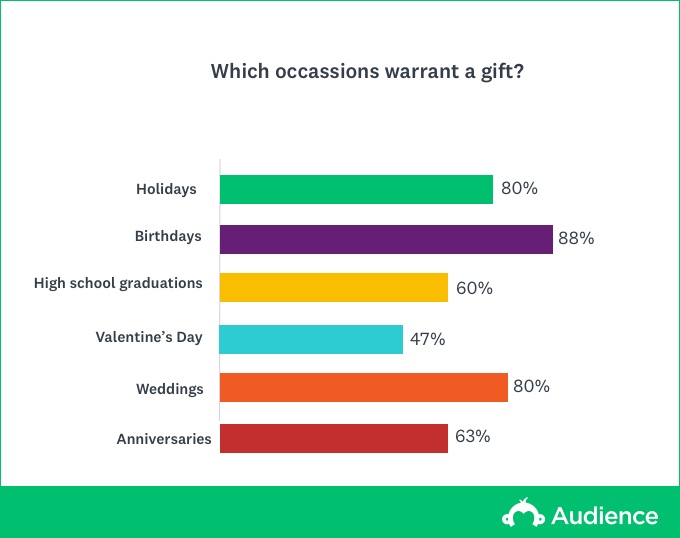 Who do people buy holiday gifts for?
(Keep in mind that not everyone in our survey might have siblings, children, coworkers, etc.)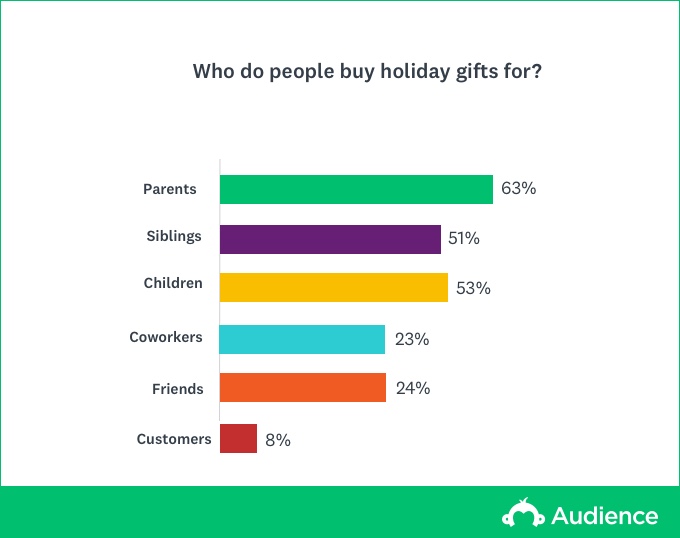 68% of people consider gift giving one of their "love languages."
Most people (32%) spend $100-300 on gifts for the holidays, thought 29% spend less than $100 and 7% spend over $1000.
59% of people typically include a card with their gifts.
The 10 best gifts to give over the holidays
As part of our survey, we asked people about the best gift they'd ever gotten. It was an open-ended questions, so there were lots of fascinating answers ranging from a BB gun to a live pig (presumably a pet?). But there were a few trends that came up in the responses again and again, so if you're feeling uninspired for the holidays, check these out.
1.Tickets to events a concert or sporting event: Concert tickets came up again and again in our survey, making up almost a sixth of the responses. Some examples: "A Taylor Swift concert ticket!" ; "Tickets to the Patriots game"; "A ticket to Hamilton!"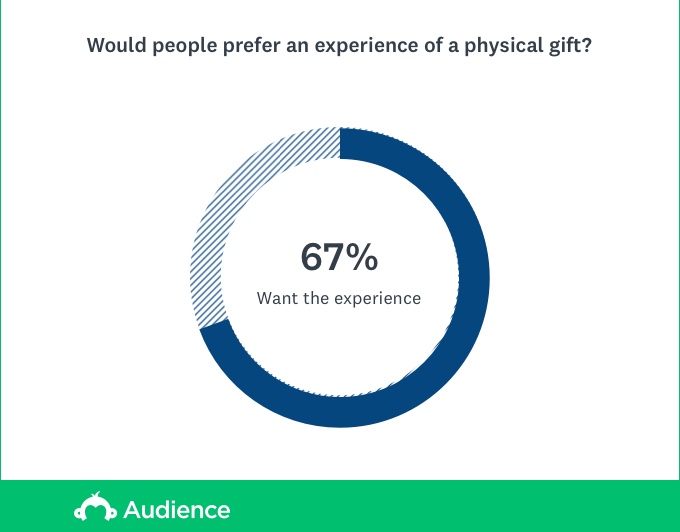 When we asked whether people would rather receive an experience or a physical possession, 67% said they'd prefer the experience.
2. A class or adventure: Also falling within that experience category were a ton of responses that involved either doing or learning. Here are a few examples: "A gourmet cooking class with my mom"; "Skydiving"; "Sunset cocktail cruise with my fiance."
3. Something autographed: In a world of mass-production, it's hard to find a gift that's super unique. But one way to get a gift that's super special is to appeal to your loved one's fandom. Tons of recipients count items signed by their favorite teams or stars among their best gifts. For example:"A comic book autographed by Stan Lee"; "A signed Seahawks jersey"; "A Bob Griese signed helmet."
4. A gadget: Almost another theme that came up every few answers was gadgets—a tablet, phone, laptop, etc. Electronics are expensive, but they're also clearly memorable. According to our survey, they're very much appreciated.
5. A pet: This gift idea might require a little personal judgment—but if you have very clear certainty that a new family member would be well received from your recipient, it could be the perfect gift. Dozens of people wrote in about their beloved furry, feathered, and scaly friends.

6. A heartfelt card or homemade gift: 71% of our respondents said that they believe "it's the thought that counts" when it comes to gifts, and cards are about as thoughtful as you get. On top of that, 6 of our respondents wrote that a thoughtful card was the best gift they'd ever gotten, and almost 20 others wrote about something a friend or loved one had made for them.


7. A trip: Vacations were among the top-mentioned gifts, with almost 60 people referencing some kind of trip as their best present ever. Destinations included everything from Disneyland to Italy to Brazil to "a weekend in the desert."
8. An instrument or hobby-related gift: Lots of people wrote that a new instrument (guitar, oboe, clarinet, and violin were all listed) changed their life. Whether it's an established skill or an aspirational one, this could be a good present for a child or aspiring artist. In a similar vein, one person answered with a basketball hoop, while another said "woodworking tools."
9. Self care: Two people said that a pre-paid spa day had been their best gift ever, while others listed: "a massage"; "yoga retreat"; and "a subscription to a beauty box with new stuff every month."
10. Food or drinks: As the ancient wisdom of grandmothers goes, when in doubt—feed people. Respondents wrote in about nice wine, treats made by their loved ones, and even a specific bottle of hot sauce. If you know what your friends and family like to eat, you've got a at least one great option, according to our research.
Good luck with all your seasonal shopping. We hope this data helps you choose the perfect things for your loved ones. The good news is that, statistically, they probably won't return it.