2019 was a banner year for SurveyMonkey.
It was our first year as a public company. It marked our 20th birthday. It was a year in which we made critical acquisitions and developments that will shape and accelerate our company's strategic direction for years to come, giving us more ways to provide people and organizations with the critical feedback they need to effectively run their business. 
Let's take a closer look at all the moments and developments that made up one of the biggest years in SurveyMonkey's history.
We celebrated once-in-a-lifetime milestones
After 19 years as a private company, SurveyMonkey officially went public on September 26, 2018. Since then, we've really gotten into the swing of things as a public company, reporting quarterly earnings, communicating with shareholders—you know the drill. Our first year as a public company has been great, and we're so happy and excited to invite the public to share in all the growth and potential that we're looking forward to in the coming years.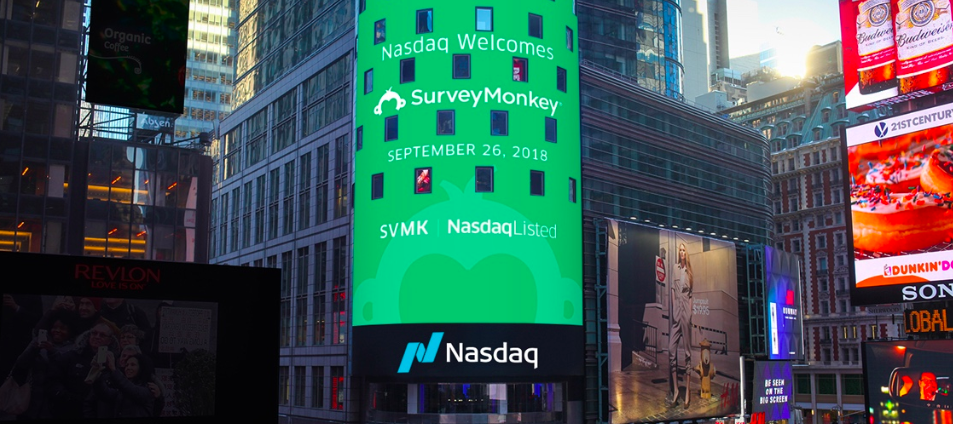 At the same time, we also celebrated a very special anniversary. 20 years ago, SurveyMonkey founder Ryan Finley had an idea that would revolutionize the way people gather feedback and interact with companies around the world. SurveyMonkey was born from the simple idea that online surveys could make gathering feedback more accessible, more scalable, and more feasible than paper surveys. 
After 20 years and around 147,000,000 surveys sent by SurveyMonkey customers, surveys have become ubiquitous. We use them every day as customers, as employees, and as consumers. As a result, feedback from surveys has become a key driver of growth and innovation for companies around the world. (Curious what 20 years of surveys looks like? Check out our infographic.)
In 2019, we also spent time with some people we really admire too:
We welcomed 2 new members to SurveyMonkey's family 
One of the most exciting developments of 2019 has been the 2 new companies we've brought into the SurveyMonkey Troop. These crucial acquisitions will pay dividends for SurveyMonkey users for years to come by giving you more ways to collect feedback—whenever and wherever you need it—on your website, out in the field, or with the CRM tool you already use every day.
Usabilla: Usabilla helps global brands gather in-the-moment feedback across their digital channels. It allows you to target specific audiences at key interactions, track customer journeys to reduce friction, and uncover opportunities to improve your customer experience. 
By collecting both qualitative and quantitative data about different users, Usabilla paints a picture of their journeys and impressions across websites, mobile apps, and other digital experiences—information that ultimately helps transform prospects into customers and continues to keep current customers happy.
GetFeedback: GetFeedback is a leading customer experience solution purpose-built for the Salesforce ecosystem. It serves over 10,000 leading brands, including Cisco, 3M, Caterpillar, Johnson & Johnson, and Walgreens.
Together, we're excited to offer the premier customer experience solution within the Salesforce ecosystem. By letting feedback data flow, we provide a better user experience for collecting, sharing, and acting on customer feedback within global enterprises.
The combined power of SurveyMonkey Enterprise, Usabilla, and GetFeedback gives you a robust suite of solutions to drive delightful customer experiences.
We've innovated on the SurveyMonkey products you know and love 
In addition to adding new products to our suite of solutions, we've also improved on the ones you already use to collect feedback every day. These improvements make it easier for you to build better, more visually appealing surveys and to squeeze as much valuable data from your results as possible. 
Build It For Me: By combining AI, machine learning, and our 20 years of survey expertise we've built a feature that will automate the majority of the survey creation for you and guide you step-by-step through the rest of the process. Once you're done, SurveyMonkey Genius automatically scores your survey, estimating completion rate and completion time, providing clear, actionable recommendations to improve your survey.
Visual themes: Our new themes give you full control over your brand identity, transforming your survey into a brand touchpoint. They allow you to create beautiful, flexible survey experiences for your respondents that you can customize to perfectly match your company's brand. Upload your own images as survey backgrounds. Place survey questions anywhere on the page you want and easily reposition them to fit new custom backgrounds. Or choose one of our pre-designed themes or browse our database of thousands of stock photos to find one that complements your survey.
Conversation mode: Conversation mode, which allows you to collect feedback in a chat-like style. The human feel of conversational surveys truly engage your target audience, leading to high quality responses.
Advanced analyze tools: We also built more robust analysis tools so you can unlock insights to make better decisions quickly and efficiently. These include AI-enabled text analysis features, like advanced Word cloud and Sentiment Analysis, which employ machine learning and natural-language-processing technology to automatically analyze open-ended survey responses. We also added advanced rule logic and crosstab reports to help you effortlessly draw insights and drive decisions with confidence.
Audience Premium: Get expert assistance from SurveyMonkey Audience product specialists to make your market research projects even better. Our team will work with you to set up expert surveys, get express results, translate your surveys, manage multi-wave studies, and even give team training on market research best practices!
SMS surveys: Discover a fast, easy way to collect feedback from your audience, at scale. With SurveyMonkey SMS Surveys, you can gather data in the moment and survey on the go, by sending people a mobile survey via text.
As an organization, we also had moments that made us proud this year. We kept up our tradition of honoring the late Dave Goldberg with our Week of Service, where company-wide we set aside time to make meaningful contributions to our communities. We also achieved our ISO 20071 certification, opened a European data center, and Ellen mentioned us on her show. (That was super cool.)
2019 has been one of the biggest years in SurveyMonkey's 20-year history. From our acquisitions to our product updates, we've made big strides in making your experience sending surveys with SurveyMonkey even better. The best part is that we're just getting started. We can't wait to show you what we have in store for you in 2020—and beyond.