It's been more than a year since the first case of COVID-19 was identified, and Google Trends show that searches for "vaccine" have reached an all-time high globally. However, in the United States that interest is complicated. The new Biden administration has pledged to administer 100 million coronavirus vaccine shots in its first 100 days, but faces both logistical challenges and public hesitancy regarding the vaccine. 
In the latest polling from Outbreaks Near Me and SurveyMonkey, conducted from January 4-10, we asked more than 30,000 adults across the U.S. about the COVID vaccine—and uncovered some interesting insights about how it's being received.   
A persistent 1 in 8 American adults say they will never get the vaccine. However, there's some evidence that people are warming to the idea of receiving it, with 59% of respondents saying they would get the vaccine right away if it were available to them and 43% saying they would have no hesitation in doing so. In late November of 2020, just 45% said they would take the vaccine right away, while 26% said they would do so without hesitation. 
What else have we learned about Americans' perception of the vaccine and the continuing fight against the coronavirus? Here are a few important findings:
There's a link between party lines and vaccine lines
From the start, Democrats have been the least hesitant to get vaccinated, and their enthusiasm has only increased over the past several weeks: 72% now say they would get vaccinated right away, up from 54% in November. On the other hand, just over half of Republicans (54%) and slightly fewer independents (46%) now say they would get a vaccine right away if it were available to them.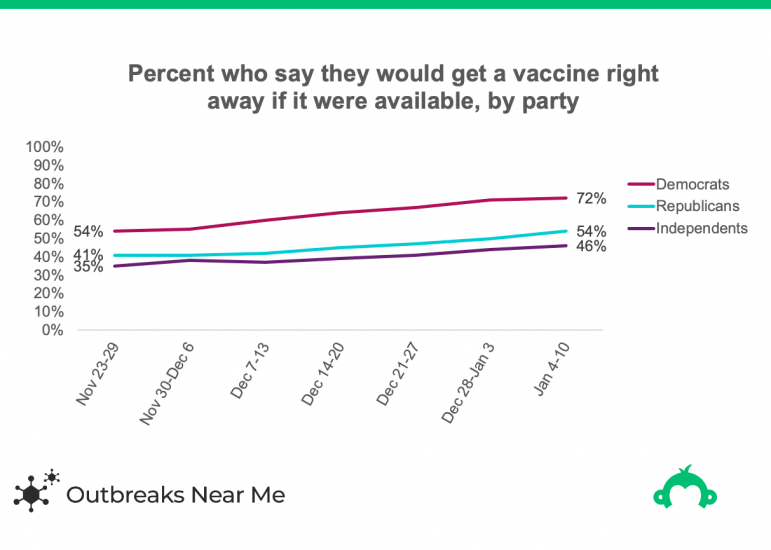 People of color are reluctant to receive the vaccine
How does the United States' history of medical racism and healthcare inequities factor into the COVID-19 vaccine rollout? Despite efforts to specifically assuage vaccine fears among people of color, only 54% of Hispanics and 41% of Blacks say they would get a vaccine right away. While those numbers are higher than they were in late November, they're also interesting in the context of the CDC's own data, which confirm that Black and Hispanic people were vaccinated at much lower rates than whites during the first month of the vaccine rollout.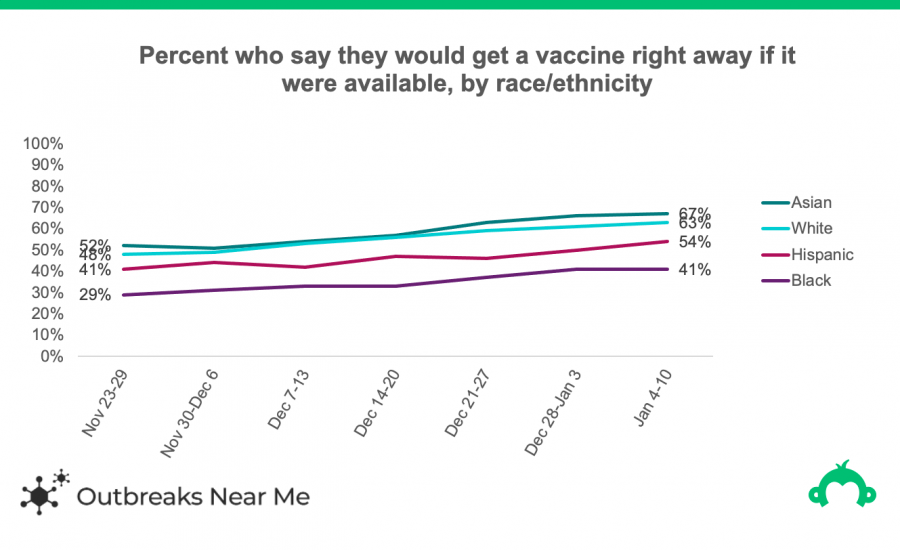 Seniors are ready to roll up their sleeves
Seniors remain the most eager to get a coronavirus vaccine. More than 8 in 10 seniors ages 65 and older now say they would get a vaccine right away if it were available to them, up from 69% in late November. They are by far the most vaccine-ready age group; in contrast, only 43% of adults ages 18-34 and 58% of adults ages 35-64 would get a vaccine right away.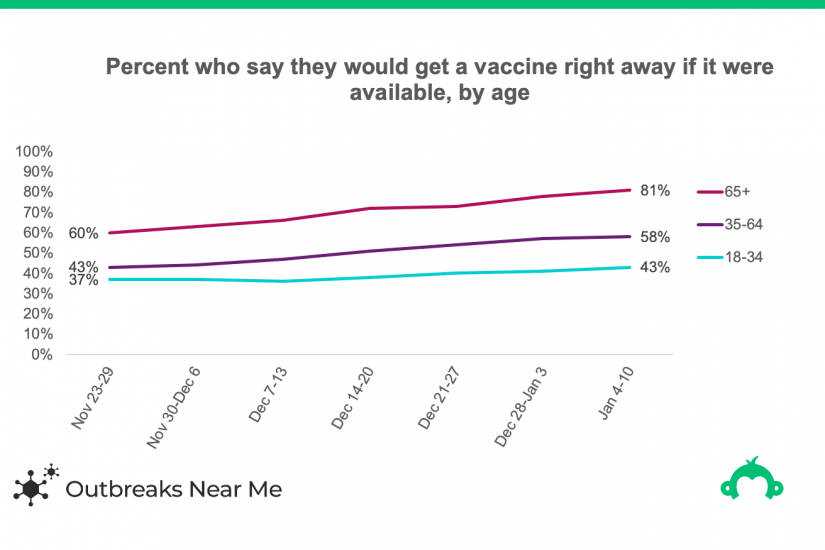 Even as vaccine distribution and production continue to increase, prevention efforts are still critical for public health. Many Americans will need to wait awhile for their dose and stay vigilant against new, more contagious strains of the virus. So what do we know about masks, physical distancing, and preventing transmission? 
In partnership with Outbreaks Near You and SurveyMonkey, The Lancet Digital Health surveyed over 300,000 Americans about their mask-wearing behavior. The medical journal found that a 10% increase in self-reported mask wearing was associated with 3 times better odds of transmission control. Plus, communities with high reported mask wearing and physical distancing had the highest predicted probability of transmission control.
Right now, there's a big spotlight on the manufacturing, distribution, and reception of the coronavirus vaccine in the U.S. With data on people's attitudes and expectations, along with their efforts at prevention, we can get a clearer picture of the work that still needs to be done.