It's no surprise that at SurveyMonkey, we use our survey platform extensively in all areas of the business. One area where each and every employee benefits from the results is in HR. How feedback helps shape the employee experience and people programs is evident throughout the year, and it is even more impactful during the extended shelter-in-place period as our 1,300-strong workforce works remotely. 
Becky Cantieri, SurveyMonkey's Chief People Officer, leads a team that uses surveys to keep a pulse on the workforce and build programs that keep us informed, engaged, and empowered to collaborate. COVID-19-related programs—from a home office setup stipend and parenting-while-working-from-home workshops, to mindfulness classes, financial planning workshops, and virtual talent shows—have been swiftly developed as a result of employee feedback that Becky's team gathers and analyzes about our needs.
I sat down with Becky (virtually), to find out how she leads her team to gather and act on feedback—even in times of crisis. Here's our Q&A.
How does feedback drive your team's decisions? 
Before coming to SurveyMonkey I had always been a user of the platform. Since I've been here, surveys have fundamentally changed how I make decisions. 
We began using surveys first for candidate feedback. When every candidate knows of their outcome, we send them a survey to better understand their experience. That feedback goes directly back into our process to inform how we structure interviews, provide interview training for hiring managers, and how we design the recruiting experience. The connection between feedback and insight has alway been really strong and we've been extending the feedback loop into more categories. 
The other critical area where we continued our use of surveys is in employee engagement, which we did once a year but now do quarterly. As time progressed, we started deploying surveys in more categories. The results affect our decisions and our ability to better understand our Troop. 
We also do surveys across belonging, candidate satisfaction, benefits and perks, COVID-19, and our office design. 
What have the impacts been? 
The changes to employee benefits through our annual benefits surveys is one huge area of impact. Feedback has been the reason why we recently added fertility and mental health benefits, as well as decreased the cost of employee healthcare premiums. Our benefits survey also led us a few years ago to extend benefits to our vendors, such as food and janitorial services, to ensure their benefits are directionally on par with what we offer employees. 
The results of our belonging survey directly led us to do a pay equity study. It also translated into the creation of our anonymous hotline and toolkit for employees to understand the lifecycle of a complaint or concern they bring to our attention. Feedback has also helped us to establish areas of focus across our Diversity, Equity, and Inclusion efforts.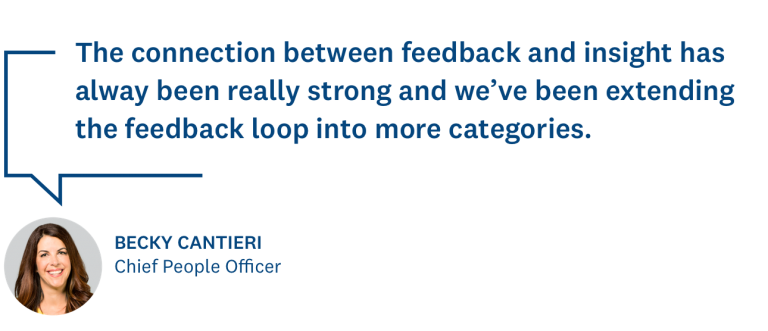 How has your team been using surveys to create programs to support shelter in place? 
Like most organizations, we assembled an emergency response team to make urgent decisions related to guidance from the CDC (Centers for Disease Control and Prevention) and WHO (World Health Organization). We initially trusted our instincts on what we needed to do given how quickly things were moving.
We quickly mobilized a plan to work from home and offered a stipend for employees to purchase office equipment to help them more comfortably work from home. 
Then, in partnership with our Survey Research team, we designed our COVID-19 surveys to understand how people are feeling and what they needed to feel productive working from home. A few key insights we collected in our first survey included that employees wanted frequent communications from leadership and various channels to communicate and collaborate with each other. [Read more about how SurveyMonkey used surveys to create a support program.]
How does your team collaborate on surveys and take action so quickly? For example, within weeks of sending a survey to employees who are parents, your team quickly set up a parenting workshop with an outside expert. 
We all collaborate on the survey design and questions. We also prioritize transparency in that we share out the results and the actions that we take with our entire Troop. 
Our team is really talented and they know how to get great insights from surveys. We are well connected to a broad employee population; we listen and care deeply, so we know what's going on. Most of the time, surveys validate what we believe to be the right thing to do. But sometimes, survey results do surprise us and lead us down a path that was not a part of our plan, such as offering benefits to our vendors. 
We've worked really hard to build trust. We ask employees their opinion and we do something about it. Sometimes we regret that we're not in a position to make the changes that are asked, but employees are generally understanding and accepting because we're honest and upfront about what we can and can't do.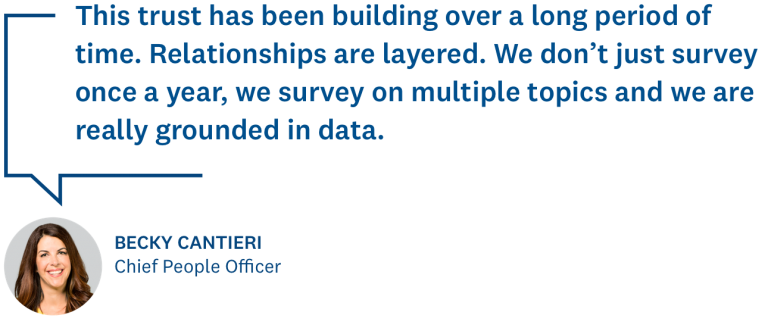 How do you ensure new hires on your team are successful from day 1 with getting feedback? 
It's about knowing how to use our product. As we onboard new employees, we encourage them to create as many surveys as they can—even if they're for fun and not as directly correlated to their work. We try as much as possible to use the data at our disposal, including data in Workday to help us make decisions. Every time we want to embark on something new, we send out a survey. It's an important part of both SurveyMonkey and our team culture, and we have the privilege of having a lot of experts at our disposal to learn from. 
What advice would you give other team leaders? 
Don't assume you know your people and know what they want and need: You have to ask and you have to engage. It's not feasible for me to have 1,300 separate conversations, but with SurveyMonkey, I can do that at scale. We leverage SurveyMonkey's AI and analytics features and functions to help build great surveys, effectively analyze results, and understand the sentiments of our team. While it may seem like more work than trusting your gut or doing what you did at your last company, it's imperative to know your people and what's important to them. Build the right programs and solutions, and maintain your team's credibility with the organization. 

Feeling inspired to build a better candidate and employee experience? Check out our templates with expert questions that you can tailor to your needs and use them to get feedback from candidates and employees. We have a number of employee survey templates to help you gather insights about employee engagement, job satisfaction, and benefits, as well as help you do performance evaluations. We also have a candidate experience template designed to help you understand how prospective employees feel about the way they were recruited and interviewed. 
Want to learn more about how the SurveyMonkey team is staying connected and efficient during this unusual time? Check out the article. 

Collaborate as a team for better survey results
Add more seats to your team, collect feedback at scale, and make big impacts.