Launching a new product or campaign? In today's environment, it's especially critical to make sure whatever you're investing in won't fall flat, or even worse, cause a backlash. In our experience as a data company, we've found that what sets a successful launch apart from one that tanks is research. And that companies who succeed have taken the step of getting market feedback on their ideas before they launch.
Our most common market research surveys involve gathering unbiased feedback on products, packaging, ads, marketing messages, and more.  But, in the last two decades, we've seen the challenges our customers face when they try to design a survey to test concepts, and the tedious, manual effort it takes to convert raw results into meaningful insights.
We felt compelled to eliminate these challenges and innovate for our customers, which is why we are proud to introduce seven new Expert Solutions that do the legwork for you. With just a few clicks, you'll get curated insights in as little as an hour.
Here's our full Expert Solutions lineup for concept and creative testing:
We built these solutions with our customers in mind
While companies across many industries can benefit from concept testing, we have designed our Expert Solutions with these three key functions top of mind:
Why we love this new product and think you will too!
We know that you need survey data to test your ideas but may not have the time, resources or expertise to pull together a research study that yields meaningful insights. In the past you may have waited too long for results to come back from an agency or lost valuable time as your team tried to sift through the survey responses to uncover hidden gems buried within the data. 
With our new Expert Solutions, you can feel confident that your results will come back in record time - in minutes vs. months - and are backed by expert survey methodology fueled by our SurveyMonkey Audience panel so you can customize your research and target the exact audience you need to collect quality data. Those painful memories of combing through data will become a thing of the past thanks to our scorecards, text analysis, and AI-Powered Insights. And when you're ready to share those meaningful insights with the rest of your team, we have you covered with beautiful, presentation-ready reports.

Let's take a look under the hood and show you what makes our Expert Solutions truly unique.
Advanced features, yet still easy to use
Our new product offering combines everything you already know and love about our Audience panel - a trusted respondent source of over 80M people worldwide that ensures high quality data - with our expert survey methodology and industry benchmarks. 
Note: Our methodology leverages a monadic survey methodology - you can learn more about this methodology here and why it guarantees high-quality responses by reducing survey fatigue. 

What really sets this solution apart are our powerful analysis features. Let's take a deeper dive into how these new features will make you the hero of your next launch:
Scorecards with industry benchmarks: Our solutions automatically score and statistically compare your concepts, so you can identify the winning idea without doing a single calculation. And our benchmarks use the same methodology with real, in-market comparables, specific for your industry.
AI-Powered Insights: Thanks to the power of machine learning, you can easily uncover the insights in your data. Our unique algorithm analyzes your results against hundreds of demographic combinations so you can quickly see which concepts each respondent group preferred.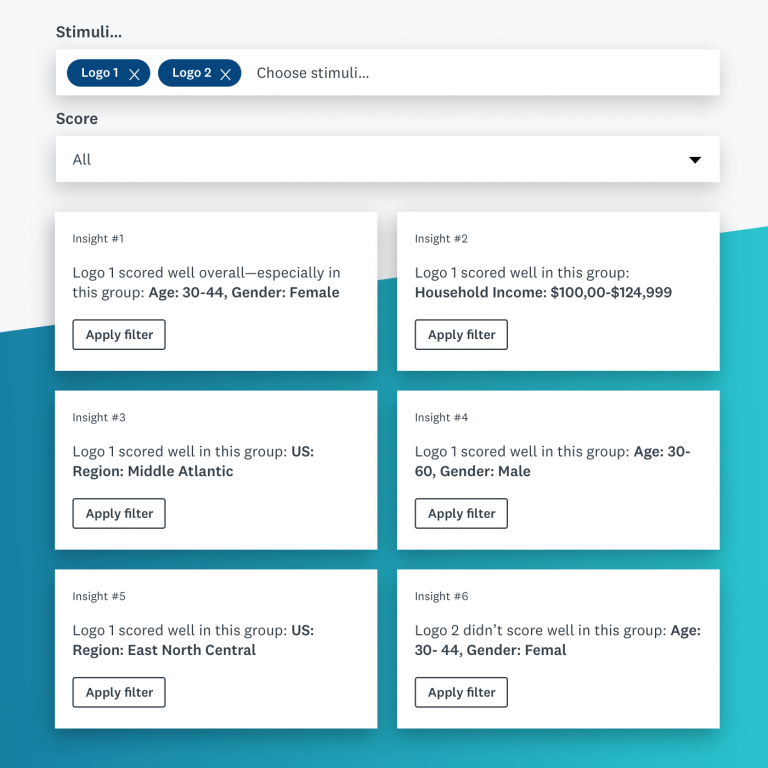 Text Analysis: Gone are the days of reading open-ended questions line by line with our new word cloud feature that can highlight the most common words and phrases from open-ended questions. You can also convert to a quantitative word count and create your own response category labels.
Presentation-ready reports: When you're ready to deliver your insights to stakeholders, one click will give you a beautifully formatted, customizable PPT export. Or, download the raw data in Excel, CSV, or SPSS format if you prefer.
This new offering was designed with you in mind - as fellow product launchers, marketers and creators - we feel your pain and that is why we designed a product that we hope will make your life a little easier. When you are ready to get started, we are just a click of a button or a phone call away!