For organizations across the world, the COVID-19 outbreak has brought with it both systemic shock to their status quo, and opportunities to embrace the new. Many businesses have closed their doors either temporarily or permanently, but others have innovated in novel ways, allowing them to maintain or even increase employment, continue to serve their customers, and keep their communities safe.
Whether it is a yoga studio expanding to socially distanced classes, a restaurant leveraging its supply chain to sell groceries, or a retailer expanding its curbside pickup and delivery services, as the pandemic evolves, organizations are experimenting and adapting. 
But, which businesses are better at the "Pandemic Pivot", and which are more likely to fail? Ask this question to business professors, journalists and CEOs, and the answer is likely to be innovative capacity. But what exactly drives innovation?
Our research, based on a survey of 3,275 workers across various industries, as well as discussions with innovators and adaptors during the coronavirus crisis, suggests that the companies that are best positioned to survive and thrive in a crisis are those that combine an agile organizational framework with an ideology of curiosity.
Curiosity is the building block of innovation
All innovations are said to come from two basic questions: How? And Why? Mystery drives innovation, and unpacking mysteries demands curiosity - the willingness to explore problems, and to seek new opportunities and solutions. Only 38% of the organizations represented in our survey stick to tried-and-true methods of solving problems, and this figure was especially low in the most innovative sectors, such as technology.  

There are no hard and fast rules about how to navigate a novel crisis like the coronavirus pandemic, so curious organizations spend time gathering data and feedback from key stakeholders—especially customers and employees—to support solution building and survival. Our survey suggests that there is a positive relationship between curiosity and propensity for success: of those that said they gathered feedback to help make decisions in the face of the crisis, 36% say their company is in a  financially stable position, and 33% say they're experiencing  financial growth. Being curious helps them identify and explore new solutions, explore and ensure that they're the best course of action.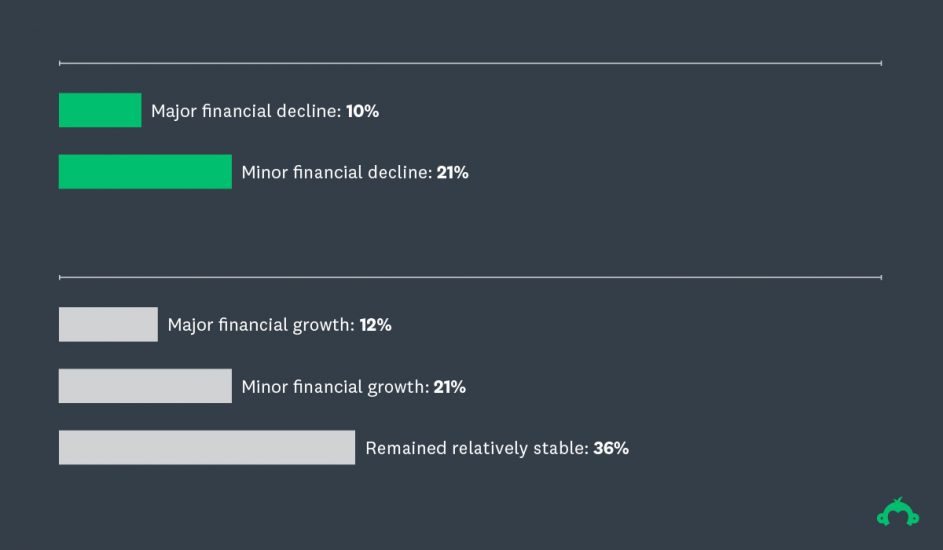 But not all organizations are curious, and curiosity alone is not enough to promote success. Only 35% of respondents to our survey say they've collected feedback from customers and employees in response to the coronavirus crisis.While 40% of those that do have a growing financial outlook, 32% of companies in financial decline also indicate that they gather feedback from stakeholders to make decisions. Why do we see a curious culture in both growing and declining businesses? The answer is agility: the key to transforming curiosity into success.
Get the full report
Learn about all the findings in our 2020 research report and read case studies from some of the organizations that are deftly navigating the coronavirus crisis.
Agility allows curious companies to react quickly to change
We asked survey respondents, "How fast or slow would you say your company adapts to change in order to be successful?" 71% of respondents say that they work at agile companies, with 80% of those in technology, advertising and marketing, and airlines and aeronautics saying their company adapts to change quickly. 
There is little sense in gathering the feedback and data to support change if you are unable to quickly capitalize on that knowledge. Agile companies have the fluidity, resolve and mindset to take the bold, decisive action that enables them to quickly adapt to new paradigms by changing business strategy, or developing new products and services, for example.
This explains why 50% of those that work at agile organizations say that their employer is extremely or very prepared for an economic downturn, compared to just 10% of those that work for the least agile organizations. At the same time, employees of agile organizations are twice as likely to say their business is doing better since COVID-19, and are far less likely to say their income has been reduced or their hours have been cut.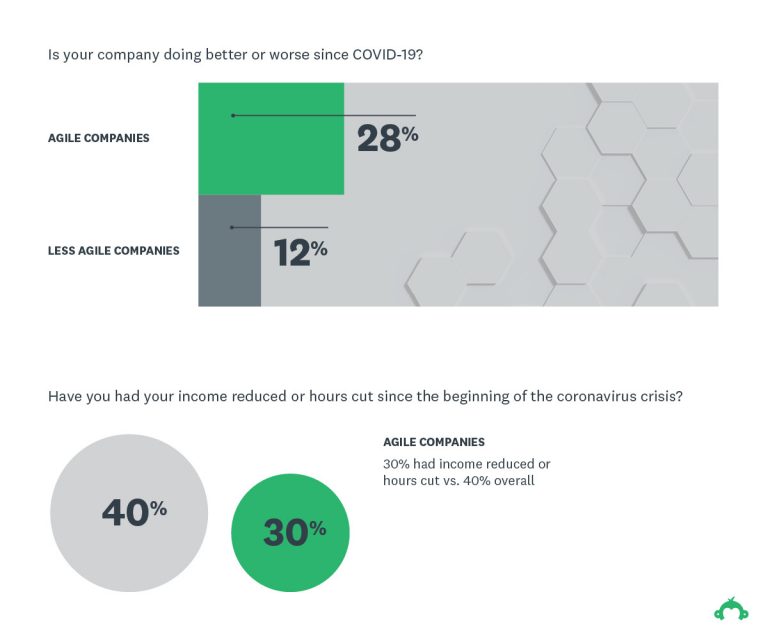 The key challenge faced by organizations navigating the new normal is, of course, preserving their bottom lines. Closed doors and nervous customers mean less revenue, and less revenue creates cash flow problems that can lead to those doors closing forever.
Research shows that it costs five times as much to acquire a new customer than it does to serve an existing customer and keep them loyal, and that you are up to 35 times more likely to sell to an existing customer than to a new one. Our research shows that people who work at agile companies are almost twice as likely to say that their employer mostly meets customers' needs. Similarly, while almost half of agile organizations say it is not too difficult or not difficult at all to retain customers, only 34% of those that work at the least agile organizations say the same.
Building a more curious and agile organization
The pandemic and the economic crisis it has precipitated will upend, displace, and shock countless more organizations over the coming months and years.  Our research suggests that just 1 in 5 Americans are optimistic of their economic prospects over the next 12 months, and the majority of Americans expect widespread unemployment and economic depression over the next 5 years.
The organizations that have the best chances of weathering the upcoming storm are those that leverage a curious culture to identify possible strategies for action, and have the freedom and flexibility to pursue outside-the-box solutions will be invaluable.  Download our full report to read about the 3 tactics for fostering a curious, agile culture in your organization.